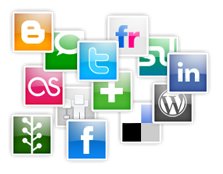 Last week, I had the pleasure of being a speaker at the Benefits Communications Conference of the International Foundation of Employee Benefit Funds. During the closing session, one of the attendees asked me which social networks I thought were going to survive into the future. The dialogue went something like this:
Me (Joanna): I can't predict the future, but I think Facebook and YouTube will stick around for a while.  Not sure about the smaller networks, especially those without solid revenue models.
Participant: But I've heard that the younger audiences are leaving Facebook now that their parents are signing up.
Me: Yes, I've read that as well, but Facebook has really tipped in terms of popularity, all the research shows that the older audiences don't leave a social network once their friends have joined and they've made a commitment to the site, and Facebook as a platform for all kinds of third-party applications is really compelling.
But then I got to thinking.  Does it really matter if Facebook survives?  Does it really matter which of the social networks survives?
If you're hesitating about investing in a social media strategy because you're wondering which of the platforms will survive, I think you're worried about the wrong issue.  Here's why:
Social media isn't just a fad. Social networks have fundamentally changed how we communicate, connect and market.  Social networks have "tipped;" there is now a critical mass of people on social networks.  You can't ignore the numbers.
In the end, it doesn't matter which social network survives because there are now so many mainstream and niche social networks, it's almost pointless to worry about which ones will make it.  Remember when we thought no other search engine could threaten Yahoo!'s primacy?
Your social media strategy probably needs to include having a presence on multiple networks, depending on where your target audiences are AND to ensure good coverage and reach for your marketing messages.
Here's what I think IS important:

Your organization needs to develop a core competency in using social networks to reach your current and new audiences.
Your organization must be nimble enough to sniff out opportunities represented by upcoming sites and networks.
Your usage reports should tell you which sites and networks are up and coming and worth investing in.
Your communication team needs to be quick to understand the capabilities of new social networks and adapt your message and strategy to each site.
Once and when you DO develop this core competency, it won't matter IF Facebook will survive.  The question will become: What's next?
What do you think?  How is your organization developing competency in using social media to meet your goals?  What up and coming social media sites are you exploring?