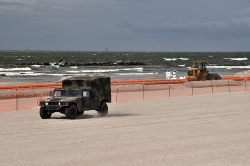 Guest blog post by Jill Foster
Since joining CitizenEffect's Gulf fact-finding mission trip last month (also called the #CitizenGulf project), it's been a non-stop learning curve on my end, plus tough emotional processing.
The social media factor and the #CitizenGulf fact-finding trip
CitizenEffect, a nonprofit that helps anyone online be a citizen philanthropist, formed the social media team seven weeks ago to personally visit the Gulf, meet with fishing families impacted by the oil spill, and figure out ways to help them. Local nonprofits in Louisiana met with us too, clarifying perspective and the needs of parishes there. We published content (audio, video, photo essays, written commentary) via CNN's iReports, Twitter, Posterous, Live Earth's blog, and more. It was difficult to see such hardship up close. But what helped get beyond the heavy emotional response was a decision made by CitizenEffect after the trip:
A CitizenGulf National Day of Action on August 25th (and you)
You, your friends, and communities can be involved. What's the goal on 8/25th? To help create a more sustainable future for Gulf fishing families by investing in education. All funds raised on the National Day of Action (less processing fees) will go to the project's charity partner, Catholic Charities of New Orleans, who will then administer an area children's educational program.
What's also exciting is how organizations – online and offline – are offering their support
Social Media Club chapters across the country are organizing meetups to occur on 08/25th — which you can attend (or you can certainly form your own meetup too). In the spirit of Louisiana and many Gulf communities, we suggest that meetups include great music (stereo or live!,) like blues, jazz, or Zydeco. Gulf Coast Benefit, which had fantastic success with a national Gulf awareness and fundraising campaign in early July, is a lead supporter of the CitizenGulf project as well. Enthusiastic partnerships both offline and online in the social space have been incredible.
Would you join us to help children of Gulf fishing families? (lots of different options exist)
The oil spill presented a huge challenge which I know, for one, can feel daunting when considering solutions. Thanks to you for listening, to Matrix Group for the chance to share here, and to all those helping Gulf families imagine and hope for a better life beyond the oil spill.

Jill Foster helps entrepreneurs, creatives, and community builders be distinct communicators online through social media and offline through public speech with her company Live Your Talk. She has particular expertise with women in leadership communities and works in the Washington, DC area. Jill was the founding editor of WomenGrowBusiness.com and named by ForbesWoman as one of 30 women entrepreneurs to follow on Twitter. In 2009, she won the Social Citizen Award on how technology could help communities in Washington, DC.