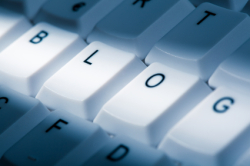 This week, I'm doing part two of a blog post I started last week on Blogging Best Practices. This post is inspired by a webinar that I conducted with my friend, blogger and activist Shaun Dakin, Director of Business Development at Infield Communications.  Here are additional take-aways from the webinar.
How Long Should Your Posts Be? We suggest that each post be no more than 4-6 paragraphs.  If your posts are too long, your followers may decide to read them at a later time and not come back.  But you want enough length to be able to cover a topic with enough substance.
Create Visual Interest. Although followers follow blogs for their content, we believe that your posts will have more impact if they have photos, videos, event basic html formatting.  If nothing else, use formatting to make your content skimmable.
Align Posts With Your Keyword/SEO Strategy. While I'm a firm believer that you can't force keywords into headlines, do try to make your titles and opening paragraphs keyword rich.
Create Compelling Introductions. Think about it.  You make a decision about whether or not to open an e-mail or click on an article in your RSS reader based on the title and opening paragraph.  So make your blog post introductions compelling to encourage clicks.
Do Allow Comments. We understand that many organizations are reluctant to allow comments on their blogs for fear of obnoxious or irrelevant comments.  On the other hand, social media and blogging are all about user-generated content and user engagement.  Comments are a great way to solicit feedback, find out what critics are saying and respond to them, and let your community advocate for you.  In addition, most blogs (like this one) usually don't inspire negative reactions, so why not just allow comments directly?  You can always delete offensive or spam-y posts.
Your Blog Needs a Marketing Plan. It's simply not true that if you build a blog, they will come.  Not anymore at least, what with the huge volume of sites and blogs online these days.  Be sure to create a promotional strategy for your blog that includes: promotions in traditional outlets, featuring on your Web site and social media pages, commenting on other blogs, and encouraging your members/customers/house e-mail list to follow and subscribe.
Review Your Usage Reports Regularly. As with anything worth doing, if you don't measure your progress, how will you know if blogging is worth doing?  Be sure to check your Google Analytics or other usage report package regularly.  And don't forget your RSS statistics; how many people are signed-up for your RSS feed or e-mail updates?
How about you?  What are your favorite blogging tips? What has worked for you?  And why do you blog?