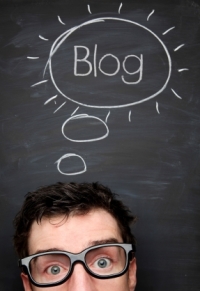 A couple of months ago, I had the pleasure of conducting a webinar on Blogging Best Practices with my friend, blogger and activist Shaun Dakin, Director of Business Development at Infield Communications.  Shaun and I are passionate bloggers and we each had a lot to say about what we think it takes to be a good blogger and have a successful and well-read blog!  Here are some of the take-aways from the webinar:
What Are Your Goals? The most important thing is to align your blog's goals with your organization's goals. Are you trying to engage your target audiences?  Influence?  Foster specific actions?  Your goals should be measurable so that, at the end of the day, you know if your blog is a success.
Who Should Blog? Shaun and I believe that anyone can blog, but for most organizations, you need people who have a 20,000 foot view of the industry or issues, enjoys writing (or is paired with someone who enjoys writing and is a good writer to boot), and is committed to pumping out content on a regular basis.
What Should You Blog About? This is the $64,000 question!  Ultimately, you need a mission statement for your blog that guides your content strategy.  We grouped blog posts into the categories.  In practice, most blogs employ a variety of blog post types to keep readers engaged.

Hot items/News – These posts tend to cover what's new in the industry, breaking news, etc.
Strategy/Commentary – These posts try to provide a perspective on specific issues and usually aim to persuade readers to take a certain point of view.
Trends – These posts report on market trends, trending topics, research and statistics.
How-To Guides – These posts are often a combination of text and video and aim to provide users with a practical guide to doing something specific.
How Often Should You Blog? Shaun and I agreed that you should blog at least once a week; twice a week is gravy.  Blogging once a month, in our opinion, is not often enough to connect with your followers regularly.  On the other hand,  blogging too often (one blog we referenced had a single blogger who posted a dozen times a day) can exhaust your readers.  There are exceptions, of course.  Tech blogs, product review blogs, and magazine blogs often have posts throughout the day, but these blogs often function more like news blogs than thought platforms for organizations or leaders.
Okay, so this is Part One.  In Part Two of Blogging Best Practices, I'll discuss how to write content that encourages participation, what we think about allowing comments on blogs, and how to promote your blog.
In the meantime, I'd love to know about your blogging success stories.  What has worked for you?  Do you agree or disagree with the best practices that Shaun and I outlined above?