Last month, some of the largest AMS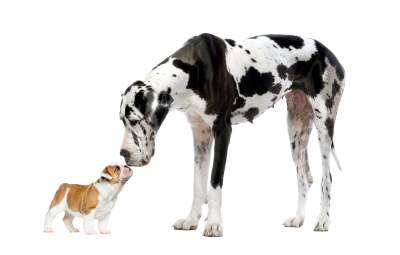 (association management software) companies (YourMembership, Abila, Aptify and NimbleAMS) joined forces to create Community Brands, which they describe as "a powerful and unified family of brands and a connected eco-system of software and services to better serve associations, nonprofits and government entities."
One can quibble over whether or not Community Brands will be a "family" of complementary or competing brands. But for a company like Matrix Group, with our web-based MatrixMaxx AMS, the big question is: In this age of mega-mergers, is there still room for a small, local player? Can we compete with the big guys for clients and talent?
I'm confident that the answer is a resounding "Yes!"
Many years ago, the book club at Matrix Group read Small Giants by Bo Burlingham, Editor-at-Large at Inc. magazine. In the book, Bo writes about 14 companies that are small and growing or small and choosing to stay small. In all cases, they have chosen excellence over growth.
Excellence over growth has always been my mantra. If growth made sense in any given year, we went for it, but never at the expense of technical excellence, customer service, customer intimacy and terrific user experience.
Sure, in many ways, being small, niche and custom is anti-trend. Aren't we all shopping at Amazon and big box retailers? Aren't we most impressed by the companies that have big, booming growth and huge total revenue numbers (often ignoring net income; we rarely hear about that). But on the other hand, there's a movement to support small, local businesses. Think of the millennials who prefer independent coffee shops, bookstores and clothing shops.There's a reason they prefer small and local and I'd wager it's because they get a more personalized, friendly, and tailored experience.
I spoke with a few clients over the past few weeks and they told me that they like working with Matrix Group because:
We have an amazing staff

Our work is of very high quality

We offer superior technical solutions on the AMS and custom sides of the business

We are easy to work with, easy to reach

We listen and respond to their needs

They never feel like just another client among hundreds or thousands

We have a track record of success

They know we'll do what it takes to help them be successful

They get customized, personal attention and ideas
While small companies don't have a monopoly on the above characteristics, somehow, smaller companies are more likely to take the time to really get to know their customers.
As for the war on talent, I absolutely love this opinion piece by columnist Gene Marks in Inc. Magazine. He talks about why it's better to work for a small company over a large company. In fact, I have refugees from large firms who tell me they enjoy have a large voice in the company, having an outsized impact on clients' success, and easy access to senior leadership.
For sure, going up against a behemoth like Community Brands will be challenging. But I gotta stay true to my core belief that we can compete with any company and help our clients make the world a better place. I know that Matrix Group and the MatrixMaxx AMS can compete based on technical solutions, customer service, price and customer intimacy. No question about it.