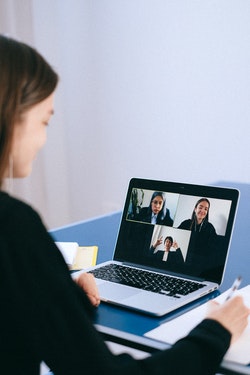 Well, the pandemic that was supposed to last a couple of weeks has dragged on through the Spring, Summer and Fall. Nearly 10 months since stay at home orders were issued, what have we learned about virtual meetings and engagement?
Pre-Recorded Is Giving Way to Live
Early in the pandemic, meeting planners pivoted to Zoom meetings that focused on education, a lot of it pre-recorded. Exhibits halls were limited to directory listings.
9 months later, we know that attendees are sick of starting at their screens, passively watching a presentation. By late October, most of our clients had switched over to live presentations. One client said they switched because:
Pre-recorded is more work for the staff
Speakers want their presentations to be perfect when they are pre-recorded, so they do take after take, which requires a lot of editing
A lot of speakers gets their energy from the audience, so recorded presentations don't have the same vitality
Our clients have packed their programs with a mix of live and pre-recorded sessions. And most pre-recorded sessions also have the speakers available to chat with attendees, or a live Q&A immediately following the content presentation.
Attendees can tell when a presentation is live. Live presentations have big and little flaws that let you know this session is happening right now. Somehow, attendees are drawn to these imperfect sessions.
Attendee Engagement is Key
Clients have asked us how to add attendee engagement during their virtual events. Attendees say they don't want a conference that feels like a series of webinars. They want to see other attendees, they want to celebrate, they want to meet new people, and they want to be entertained. Some things clients did this Fall:
NAES offered Morning Coffee each day of their Biennial Conference. Attendees were slotted into video rooms with 7 random attendees for a half hour of networking.
EAIE followed content presentations with breakout sessions where attendees were placed in video rooms with up to five other people to discuss the topic.
FACT held a Lunch with Leaders session where attendees could drop in and chat with the organization's top leaders.
Facilitate Informal Meetings
Whenever I attend an ASAE meeting, I try to see as many clients and friends as possible. These informal meetings and chance conversations are part of the magic of conferences.
Which is why BeSpeake has a user-friendly and easy to find attendee search, a message center and 1-2-1 video meeting scheduling.
In one of our meetings, nearly 30% of the attendees participated in at least one private video meeting! And a whopping 54% participated in a breakout or appointment; in other words, more than half of the attendees participated in an activity where they were on video and meeting with other attendees!
Add Some Lightness and Entertainment
When we hosted the Biennial Conference for the National Association of Episcopal Schools, two of the most captivating involved music: one session featured a pre-recorded video of a children's choir, and one social event featured an entertainment/musician.
It was obvious from the comments and reactions that these sessions were a welcome break from the talking heads (that were amazing, by the way), and highlighted the need for a variety of session formats.
During the ASAE TEC Conference in December, one of the most memorable events was the party hosted by the Association of Women Technology Champions (AWTC). The event was conducted in Zoom and featured games and networking. While the TEC sessions were good, the AWTC event was the most interactive and fun.
It's 2021. While we don't really know what the meeting landscape will look like, here's what we do know: Attendees are looking for new, different, and engaging. Your meeting cannot be a broadcast version of your in person conference. So what are YOU going to do in 2021 to take your virtual meetings to the next level?
Want to create a custom built virtual conference or tradeshow experience that is just as transformative as your in-person events? Contact us today to schedule a private demonstration of the BeSpeake virtual meeting platform.