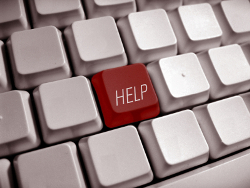 My laptop is being rebuilt, my cell phone has stopped ringing — but all my equipment is new! I'm in technology hell, and if it weren't for Maki and my senior network administrator, I would lose my mind.
When I ordered a new laptop three months ago, I asked for Vista as my operating system.  I figured it was time to get Vista; it's been out for ages and resistance is futile, it was time to upgrade.  Alas, my brand new Sony VAIO laptop with 2 GIG of RAM was slooooow to boot up and slow to shut down, it took 5-10 minutes to recognize an ethernet or wireless connection, it crashed a lot, and hibernating almost never worked.
Maki finally got sick of my whining and asked me to hand over my laptop one day so that the network admins could downgrade my OS to XP. Wow,my laptop is now super speedy and I'm online within seconds after plugging in.  I'm still in hell because you know how it goes with a new system: you have to re-install all your favorite plug-ins, you need to set-up your Word templates, you have to re-synch your phone with your Palm desktop, yada, yada.
Now for my phone.  My beloved Palm Treo suddenly stopped working in August. It kept trying to synch with my laptop, even when it wasn't connected to my laptop and it would crash often.  So I got the latest Palm phone, which I love.  It's lightweight, it synchs with my laptop nicely, and I love the built-in apps.  Trouble is, the phone mysteriously stopped ringing. No, I didn't drop it on the ground or in water.  It still vibrates, it's just won't ring.  I guess I'll have to make a trip to the Verizon store where I will wait in line for an hour for the privilege of being poorly treated by a snarky sales rep.
I'm lucky.  Maki is an absolute wizard with hardware and he can make anything work.  At work, I have HT, who has the patience of Job and the skills of a Jedi.  I ask myself how people who don't have network admins working for them deal with all these crazy technology issues. Do they buy Macs?