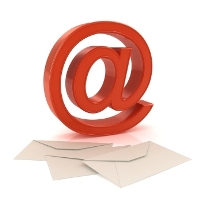 Last weekend at the mall, while purchasing a pair of shoes, the saleswoman gave me a tantalizing offer: give us your e-mail address and we'll give you 10% off the price of the shoes.
I had a lot of time to think about the offer because everyone in front me willingly gave up their e-mail address and contact information. Me, it took about 30 seconds to realize that saving less than $5 on a pair of shoes worth $49.95 was NOT worth getting spam from a store I don't visit often (even though the shoes were really cute).
My shopping experience went from bad to worse. At a kids' clothing store, I waited in line as each mom was asked, "would you like to give us your e-mail address and get $250 worth of coupons, would you like to subscribe to this magazine for the discounted price of $20, yada, yada." And I was amazed at how many people provided their phone number AND e-mail simply when asked! When it was my turn, I paid cash and said no thanks when asked for my phone number, address and e-mail.
So I got to thinking. What is my e-mail address worth and when am I willing to share it with a site or vendor?
I thought about all the sites I've visited recently that required registration; on most of these sites, I just clicked away because I wasn't willing to provide my precious contact information.  On the other hand, I willingly provided my e-mail address to Nordstrom (one of my favorite retailers), Amazon, MarketingSherpa, the New York Times, Barnes & Noble and Epicurious. And yes, I actually like getting my weekly recipes from Epicurious and fashion updates from Nordstrom. I read my Sherpa e-mails and New York Times digests religiously. And I use the Barnes & Noble coupons that come via e-mail.
Bottom line for me: I have to already be a believer in your brand and content for me to give up my e-mail, and you can't buy it from me for $5, not even $100.