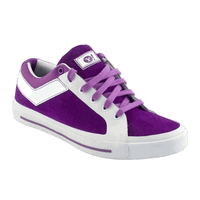 It seems purple is the color of the season and I'm not complaining. If you know me, have been to my office, or spent any time on the Matrix Group Web site (or this blog for that matter), you know that purple is an integral part of the Matrix Group experience.
I was pleased to see that Yahoo! has launched a Start Wearing Purple campaign. Even though the logo on the Yahoo Web site is red, it seems that purple has long been the company's official color. Why purple? Yahoo says purple is associated with innovation and imagination.
Hmmm…. I always thought purple was associated with royalty and girl power, but hey, I'll buy the innovation and imagination connection. Jerry Yang, Yahoo CEO, says he "bleeds purple." Hmmm…. even I'm not crazy enough to say stuff like that.
But seriously, the Start Wearing Purple site is fun. You can buy fun purple gear, check out a Flickr feed that features purple products, and read about purple pioneers. Yahoo even has a Purple Acts of Kindness program that provides grants to deserving community leaders.
Back to purple being the color of the season. Fashion Trendsetter says purple is one of the hot colors for Fall 2008. Crate & Barrel's catalogs are featuring a slew of purple products, like this Radius pillow and a purple leather chair.  And check out the purple boots that Miley Cyrus wore at Disney's "Concert of Hope."
I ordered a pair Yahoo purple sneakers on the Start Wearing Purple site. I'll be sure to post a photo when they arrive next week. In the meantime, take my advice and Yahoo's — and start wearing purple.