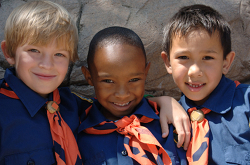 My husband and I attended my son's Cub Scout Blue and Gold Banquet earlier this week. At the end of the banquet, a representative from the National Capital Area Council of the Boy Scouts of America made a pitch for supporting the Boy Scouts with a financial gift. She did a nice job but what really convinced me was the brochure she handed out, which said:
For every 100 youth who join scouting

1 will use his Scouting skills to save a life
1 will use his Scouting skills to save his own life
18 will develop hobbies that will last throughout their adult life
and on and on
Who are Boy Scouts?
72% of Rhodes Scholars
65% of the US Congress
65% of male college graduates
26 of the first 29 astronauts were Boy Scouts
and on and on
Wow. With statistics like that, I'm keeping my son in Boy Scouts forever and I'm giving them money every year!
Here's another compelling statistic I heard recently. I'm a member of Vistage, which is a membership organization for CEOs. Vistage says that their member companies consistently outperform non-member companies. Based on the coaching and resources I get from Vistage, I believe it. Vistage is a big commitment of time and money, but totally worth it.
How about you? What compelling statistics or facts can you share with your prospects to make them join your organization, become a customer or donate money?
If you're an accrediting body, can you point to the top organizations that are accredited and how accredited companies have better safety/graduation/success rates?
If you're a trade association, can you point to the top companies in the field that are members, your legislative record, and the success rate of your companies?
If you're a professional society, can you point to the job rate and salary levels of your members, your contributions to the profession, and your profession's rank as a top career?
If you're a charity, can you point to your success in changing systemic problems?
In thinking again about the Boy Scouts, what was effective about the pitch was this: I wasn't being sold on the activities of the Boy Scouts, I was being sold on the outcome. The message was clear: Enroll your son in Boy Scouts and this is what he can become. I'm sold.