Want to elevate your next in person or virtual conference? Consider hiring a professional emcee!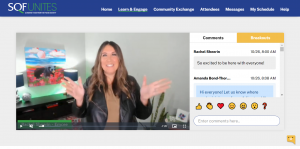 We recently hosted the SQF Unites conference for the Safe Quality Food Institute (SQFI) in BeSpeake, our virtual meeting platform. SQFI wanted to elevate their virtual conference and ensure that their attendee journeys were meaningful and intuitive. To help with this, SQFI hired a professional emcee named Rachel Sheerin.
And boy did Rachel do her part to elevate virtual SQF Unites!
Rachel recorded several welcome videos that were featured on the home page of the BeSpeake virtual platform before and during the conference.

Every morning of the conference, Rachel did a "highlights" session, during which she previewed the day's events, gave tips for getting the most out of the day, and showed people how to navigate the platform and features.

Rachel was the host and moderator for the keynote sessions.

Rachel was also the host and moderator for several hour-long sessions that featured mini-sessions from conference sponsors.
Throughout the entire conference, Rachel added commentary, insight and guidance. Best of all, she was in tune with all of the content, tying together sessions with quotes and common themes.
During an in person conference, I sometimes find myself a little lost. I'm not sure which sessions to attend, I struggle to find the best way to get to lunch or the exhibit hall, and I wonder how to bring the knowledge I'm gaining back to my company.
During the virtual SQFI Unites conference, Rachel didn't just serve as emcee to whichever session she was hosting, she served as the overall guide to the entire conference experience. She was both dynamic and helpful. It was clear attendees appreciated Rachel because of all the love she got in the chat of each session.
Whether you're doing an in person, virtual or hybrid conference, think about whether and how a professional emcee can elevate your event and guide your attendees to their best conference experience ever!
And if you're looking for a great emcee, we can't recommend Rachel highly enough!