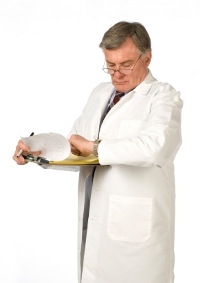 Why is it that going to the doctor is such a miserable experience? I don't think it's just because we're usually sick when we see the doctor. From the attitude of the admin staff, to the wait, to the rushed visit with the doctor, I'm convinced that going to the doctor is usually a horrible user experience.
I went to see a new doctor last week about a lingering chest cold.  The receptionist told me to arrive 10 minutes to fill out the required paperwork and I complied.  Okay, I expect to wait when I see a doctor, but I didn't plan on waiting a whole hour to see the doctor.  And you know what, the admin staff acted like it was the most normal thing in the world that a patient would wait 60 minutes; nobody talked to me, nobody apologized, nothing. When the doctor finally saw me, she didn't apologize or acknowledge my wait until I asked her point blank if I should expect to wait an hour each time I saw her.  To add insult to injury, she rushed the exam because she was running so late.  She said my lungs were clear but wrote a prescription, just in case.  Yeah, I felt all warm and fuzzy about this visit.  (Not!)
I went to a new doctor because my other doctor, who I had been seeing for four years, never seemed to remember me, always confused me with other patients, and kept trying to push asthma medicine for sinus infections I'm prone to get during the winter.
Does it have to be this way?  I think not.  When I lived in San Francisco, I had a great dentist. I looked forward to going to the dentist – the dentist!  Why?  Let me count the ways:
If the dentist was running late, I would get a call from her office.  The receptionist would let me know how much the dentist was behind schedule and ask me to come later or reschedule, if my schedule did not allow for a later appointment.  Imagine, a dentist who respected my time!
When I arrived, I was always offered herbal tea or a glass of water.
During my actual time in the chair, I was offered the use of a Walkman (yeah, I'm dating myself) to drown out the drilling and other horrible dentist noises.
When I referred a patient, I got a handwritten thank you note from the dentist or office manager.
So, what kind of user experience do you offer your customers when they call or visit your office?