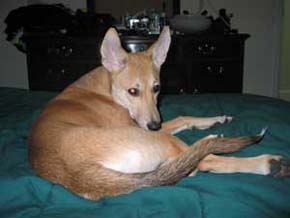 Last Thursday, John and Ronia Weisner were at Dulles Airport, on their way to Saudi Arabia for a year-long assignment.  Accompanying them was their beloved dog, Jeddah.  Somehow, something went terribly wrong, Jeddah's crate was damaged, and the dog escaped.  Now, there is a Web site – http://www.HelpFindJeddah.com –  devoted to finding Jeddah, as well as a Twitter account to keep people abreast of any news related to Jeddah's whereabouts.
Just think about it.  In the past, if a dog or cat went missing, we put up flyers in the neighborhood and told all our friends.  Today, we use the Web, especially social networking sites, to tell the story, spread the word, and ask others to spread the word.  If a cause or issue takes hold, thousands of people catch wind of the story within minutes, hours, days, without the involvement of any government or news outlet.
In Jeddah's case, WJLA reported the story, which reached the ears of Kate Bland, who asked Matrix Group to put up a Web page and Twitter account.  In between, dozens of people have e-mailed and actually joined the hunt for Jeddah at Dulles Airport and in Reston.  Today, thousands of people have heard about Jeddah.
Can the Web, e-mail and Twitter help save Jeddah?  Let's hope so.