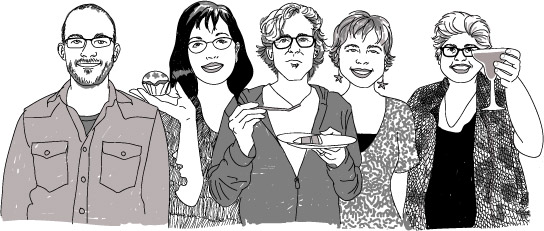 Last week, Matrix Group launched a new staff blog – SnackOClock.net. SnackOClock came out of an internal town hall meeting I held with staff late last year about recruiting. As a company, we decided to launch a staff blog to showcase our expertise, highlight cool projects, discuss innovative techniques we're implementing on client sites, and demonstrate thought leadership among our peers.  SnackOClock launched last week and half of the company is now blogging.
The idea of a staff blog has shocked many of my CEO friends who tell me that SnackOClock will simply facilitate poaching of my stellar staff, and that I am giving my employees a platform to show off their talents and then go make more money elsewhere. Pretty serious stuff and I admit that I had to think hard about this when the idea was first discussed.
But here's what I realized: identifying and poaching (attempted, at least) of my staff is already happening. Most of my staff are on Twitter and LinkedIn where it's ridiculously easy to find employees at specific companies. Heck, Facebook even lets companies target employees of just certain organizations when taking out Facebook ads. Finally, Matrix Group already encourages staff to be involved in their local tech communities by participating in e-mail discussions and attending meetups.
So, after some hard thinking and weighing of the pros and cons, I decided to embrace the idea of Matrix Group staff as brand ambassadors. Whenever one of my employees posts to a list, attends an industry event, tweets or blogs, they are representing themselves and the company. This is because Matrix Group is in their e-mail signature, they hand out business cards, and they mention the company in their profile. By creating an official platform, SnackOClock, that allows staff to show off their expertise, I'm harnessing their knowledge and expertise for the good the company — on a platform owned, managed and edited by the company.
SnackOClock has only been online for just over a week (we had a soft launch last week, the official announcement to the world is this week), but here are the results so far:
Most staff are blogging or intending to blog.
Staff love that they can blog when they want to and get editorial and writing support, which makes it easy for new bloggers to get going.
There's a ton of excitement among the staff about the blog and it's infectious.
The entire company is sharing individual blog posts to their social networks, so we're achieving our goal of wide distribution of posts, which can only be good for recruiting and prospecting.
Blogging was on many staff members' "want to do" list, so the company is facilitating their professional development through the blog.
SnackOClock is promoting knowledge-sharing within the company.
SnackOClock has exceeded my expectations regarding the quality of the posts and the coolness of the design. I loved Liz's post on SiteFinity 4.4, Rich's post on Ghostery, Eric's post on real-time Google Analytics, and on and on. Check out SnackOClock.net for yourself. I hope you'll subscribe to the RSS feed, comment on posts and share individual posts to your social network.
How about you? Does your company see staff as brand ambassadors or gems to keep hidden away? What do YOU think of employees as brand ambassadors?