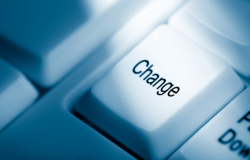 In the last twelve months, Facebook has made some major and minor changes to its interface. Each time they did this, there was hundreds of blog posts decrying or applauding the changes.  There's even a group called "I Automatically Hate The New Facebook Home Page."
Why do we get so upset when Facebook changes its interface?
In looking at some of the blog posts and news articles, I can understand many of the complaints. For my part, I cannot figure out the difference between News Feed and Live Feed. But I love that it's easier to get to my Inbox and see which of my friends is currently online. I also think that Facebook generally does a great job of explaining why they have implemented specific changes.  I thought this Guide to the new Facebook Home Page was especially good.
Psychologists tell us that most humans are averse to change. With over 350M users, any change then to Facebook, no matter how small, is bound to upset some segment of the user base. And if just 1% is unhappy and vocal, that's still 3.5M people.  If 0.1 were unhappy, that would be 350,000 people!
All of this got me thinking. Matrix Group is in the business of redesigning Web sites. We work with clients who want to redesign their sites for all kinds of reasons: name change, the navigation is not intuitive, the company's focus has changed, yada, yada. But if Facebook users are any indication of how averse we are to change, no matter how rational, articulated or needed, there is always going to be a segment that is unhappy. This unhappy user base may be vocal about it, which I think is a good thing because then you have an opportunity to respond to the concerns.  If the user base is unhappy and silent, then you're in trouble because you don't know you have a problem.

If you know you need a redesign, here are my thoughts for managing the change:
Let your user base know that change is coming and explain why.
When the new site is live, announce the change multiple times and keep explaining it.
Provide narratives and videos that explain how to get around the new site.
Provide a way for your customers and members to provide feedback and suggestions for tweaking the new site to make it better.
Log search results so you'll get an early warning that visitors can't find specific content and services.
How about you?  What kind of reaction did you get to your last site redesign?  What did youdo to prep your audience?