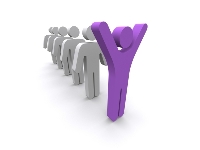 Unlike some of my friends and many staffers at Matrix Group, I'm relatively new to Twitter, the mini-blogging site that lets you broadcast your status, location and thoughts. I've been "twittering" for just a few months, but I'm addicted. I "tweet" all day long and read most of the tweets of the people I follow. On Twitter, btw, I'm jmpineda.
For those of you who are new to all this, you can "follow" people on Twitter and people can follow you. When you follow someone, their tweets are posted to your Twitter home page all day long. In my case, I'm following a random collection of friends, Web thought leaders and organizations. My friend Joe tweets his location, the books he's reading, the articles he's reading. The National Wildlife Federation tweets about promotions, events and issues.
The vast majority of my followers are people I know — friends, family, clients, acquaintances. But here's the strange thing. I've started to get an increasing number of random followers. Twitter lets you know via e-mail when people start following you and the last six people are strangers to me.
I know that my tweets are not that interesting, no matter how hard I try. I asked my friend Cat if random people follow her and she said, "oh yeah." Who are these people and why are they interested in my tweets? How did they even find me?
I guess this is all part of the big, social world we live in. Many of us choose to broadcast and share; evidently, there are many people out there willing to receive all this data.