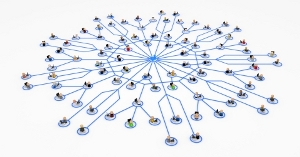 I've been on Twitter, Facebook, and LinkedIn for some time now.  I'm also on FoodBuzz, Plaxo, Delicious and StumbleUpon.  Most recently, I signed up for FourSquare, Amplify and Buzz.  FourSquare is a location-based social network that allows  subscribers to check-in from their current location using their mobile phones and provides tips and recommendations.  Amplify asks "users to share news and information they find thought provoking and conversation-worthy," not anything and everything about their lives, status and locations.  Buzz is the latest offering from Google that lets you share updates, links, photos and videos.
Now that I'm signed up for all of these services, I'm asking myself these questions:
Which social networks should I be on personally and professionally?
Most of the social networks let me share out updates from one network to another; should I share out my tweets or does that defeat the reason to be on multiple networks?
Am I reaching a different audience on each network or will I be talking with the same group of social network-obsessed friends and colleagues?
Just how many networks is practical for me to keep updated without losing my mind?
To try and get some perspective on these questions, I turned to my friend Jill Foster, social network guru, video blogger, and co-founder of DC Media Makers.  Jill has over 5,000 followers on Twitter, nearly 600 Facebook friends and she's prolific on what seems like every major social network.  Here's what she has to say about being active on at least a half dozen platforms:
There are online networks where my content may overlap but that's intentional and less frequent.

Twitter:
It's my central hub of online conversation plus a place to observe other users' content –  and share content I produce.  Twitter frankly goes beyond a business platform for me.  Twitter is a liberal arts engagement pool (with a water cooler chat mentality mixed in) that never stops.

Twitter Search:
If I want to virtually attend a conference – I follow that conference's hashtag or the feeds for those able to attend in person.  Also, to observe and engage on core topics of interest with people, I keep certain Twitter feeds active, e.g., women entrepreneurs, public figures, public speaking, social media.

Amplify:
It's not a water cool chat mentality when I use Amplify.  It's an excellent platform and opportunity for sharing deeper perspective.  I forward links to these conversations (which include entire clipped excerpts) to Twitter or, if content is more on the personal development front, to Facebook as well.

Posterous:
I enjoy Posterous for sharing mobile content – audio, video, and pics – which forwards to Twitter, where I can respond and engage.

Facebook:
I use Faceboofor more personal engagement,  although my professional drive/views may be shared there.

LinkedIn:
It has a fantastic array of subject-centric, professional groups. I am starting to use LinkedIn to join groups and be part of discussions.  It's less a place to share regularly or engage through content (vs. Amplify or Twitter).
So there you have it.  A social media maven's primer on the major social networking platforms and how to use them.  As for me, I'm slowly getting hooked on FourSquare and I'm trying to find time to post on Amplify.
How about you? How many and which networks are you on?  How do you distinguish between them?  How much time do you spend updating each day?  And which one is your favorite?