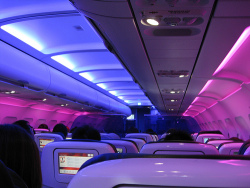 Whenever Matrix Group flies Creative Director Alex Pineda to the DC area (from San Francisco, where he is based), he asks to fly Virgin America.  Alex says the Virgin flying experience is "superior to other airlines." Last week, I got to experience why Alex likes Virgin so much.
For my son's Spring Break, my family spent a week in San Francisco and we flew round trip on Virgin America.  After two flights, I am a total fan, so much so that I told my husband that from now on, whenever possible, we will fly Virgin.
Just what makes the Virgin America user experience so different?
Virgin America doesn't use different or larger planes.  The airfare was comparable to other airlines when I was booking on Orbitz.  We had to pay $20 to check our bags.  The legroom on the plane wasn't more than on other planes I've flown recently.  The food and alcohol weren't free.  And I didn't get a blanket or pillow.
What made Virgin America different was the entertainment and how food and beverage were dispensed.
The beverage carts only  made one pass through the plane.  But for the rest of the 5+ hour flight, if we wanted food or drink, we used our touch screens to place an order.  If I wanted water, I touched water and a flight attendant came by within minutes with a bottle of water – for free.  When my son wanted cookies, chocolate or a sandwich, I swiped my credit card, and the flight attendant came by with his order.  So for the entire flight, instead of just the couple of times the carts come around, we had access to food and beverages.
There was Wi-Fi on the plan! For about $8, I could get wi-fi and check e-mail and surf the Web!  Unbelievable!  And each seat had regular AC power so I could keep my laptop plugged in during the whole flight!
I loved the free Dish Network. No kidding, I caught an NCIS marathon the way to SF and a House marathon on the way back.  Truly decadent!

There were also first run movies for rent and an awesome library of songs. I was able to make my own playlist of songs and listen to some great music!
Perhaps most important, my son enjoyed music and shows appropriate just for kids.  He listened to Schoolhouse Rock, played games and watched videos for hours!  Hours!  While mommy and daddy enjoyed their own shows!  Priceless!
And did I mention the purple mood lighting in the main cabin?
So here's what struck me about the Virgin America experience.  Virgin didn't try to change all aspects of the flying experience.  They focused on changing just one thing — entertainment — and ended up transforming the whole user experience. They also managed to get me to spend a whole lot more money, willingly and happily, than I have ever spent during a flight.
How about you?  What one thing can you change about your customer's user experience that could radically transform your company and catapult you ahead of the competition?