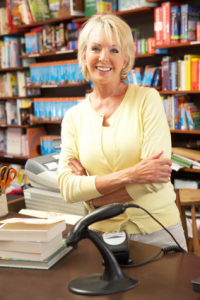 For the past few years, I've had the honor and pleasure of chairing a benefit auction for Doorways for Women and Families, a non-profit that helps women and children who are homeless and/or victims of domestic violence in the Northern VA area.  This year, despite the recession, the silent auction was the best ever, featuring more items, valued at higher levels, than ever before.
I want to offer a great, big, heartfelt THANK YOU to all the businesses that supported the auction. What strikes me about the list of donors is that the vast, vast majority are small businesses.  Once again, they answered the call when we asked them to support a worthy cause, despite the awful economy. And once again, they came through in a big way.
Abaca Imports, my favorite furniture store in the world, once again donated two Asian-inspired lamps.  Salon DeZen, where I get my hair cut every couple of months, donated a haircut and facial.  Signature Theater donated 2 subscriptions to their 2010-2011 season.  Marrakesh Restaurant donated dinner for 10.  Rosenthal Jaguar donated the rental of a 2010 Jaguar for the weekend.  Liberty Tavern donated a progressive dinner for 6.  Thrive Pilates and Yoga donated ten classes.  Amber Association Partners donated two front-row tickets to see the Wizards.  And on, and on.  (You can view the entire, amazing list on the Doorways Web site.)
Matrix Group works with several, prominent trade associations representing small businesses.  If there's one message that resonates constantly, it's this:  small businesses are a vital part of our communities because they are more likely to support local charities and groups. As one exec put it:  You never see a big box retailer's name on the uniform of the local little league team; it's always a small, local business that put up the money.

Don't get me wrong.  The auction got great support from large corporations, particularly hotel chains.  Marriott, Sheraton and The Hotel Hershey were very generous.  (God bless these guys, they  must get thousands of solicitations each year.)  The vast majority of our donors, however, were small businesses.
So thank you to all the businesses that supported Doorways, a small, local charity doing great work.  And thanks to all the small businesses out there who support local charities and causes everywhere.