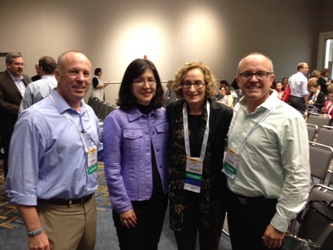 I had the honor of moderating a panel at this week's annual conference of the American Society of Association Executives in Detroit, MI. The panel was titled, "The Role of the C-Suite in Technology" and featured 3 CEOs and 2 CIOs.
Each panelist described his/her organization: mission, staff size, revenue, most important programs and key technologies. Every organization had a diverse mix of technologies that included an AMS (association management software), CMS (content management system), accounting, and sometimes LMS (learning management system).
The key takeaways from the session?
The C-Suite has a key role to play in technology. Panelists reported more success with projects when CEOs are involved at the beginning, when they provide clarity about the focus of the organization and the technology initiatives that will support hat focus, and when they help secure adequate resources to make projects happen.
Establish criteria for CEO involvement. The panelists all agreed that CEOs should be involved in all technology projects and they shouldn't get into the weeds. Instead, CEOs should be involved when the project is over x budget and when it affects a large or prominent segment of the organization.
Tie technology to your strategic plan. One CEO reported that technology represents 10% of her total budget so it's imperative to tie technology to the mission of the organization and demonstrate impact to the membership and the profession.
Establish measures of success. Gone are the days of spending money on technology because you had to. These days, associations must report on the impact so it's important to establish measures at the beginning of each project. Talk to your vendor about reports that will help you measure impact.
Establish relationships with key vendors. One CEO says he checks in regularly with his top vendors to see how his team is doing, get trend information, and get recommendations for the future. Another CEO said it just plain makes life easier when you can pick up the phone to get clarity or resolve a problem.
Many thanks to Barry Pilson, my co-moderator from TESOL International Association. The fantastic panelists were:
If you'd like a copy of the slides, you can find them here.