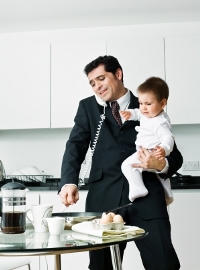 Multitasking is everywhere. People are texting while driving, e-mailing during meetings, talking on the phone while walking their kids, tweeting while watching TV and IMing while working. Many people even brag about their multitasking prowess.
But can we really do two, even three, things at once?  Research shows that we can't really multitask.  Not well at least.
Way back in 2001, researchers at the American Psychological Association set out to find out if multitaskers are more efficient.  Their findings: multitasking isn't more efficient; shifting mental gears wastes time. More recently, a group of researchers at Stanford University found that "(p)eople who are regularly bombarded with several streams of electronic information do not pay attention, control their memory or switch from one job to another as well as those who prefer to complete one task at a time."
While I'm tempted to multitask on a regular basis, I'm trying really, really hard to break myself of the habit. For example, I don't check e-mail on my phone anymore.  It turns out that when I'm away from the office, I'm usually in my car or in a meeting.  I know I shouldnt' check e-mail from the car, so I don't.  And clients typically pay me to pay attention during their meetings, so I don't check e-mail then, either.  I will take detailed notes on my laptop during a meeting but the note taking helps me process and organize the discussions and information.
And I try not to check e-mail while talking on the phone.  Talking on the phone requires a lot of my concentration, especially if I'm taking notes.  It's really obvious when someone is not paying attention during a call and I don't want to be that person.
I'm guilty of multitasking like any other busy professional, especially as a working mom.  But I'm trying really hard to just say NO! to multitasking.  How about you?  Are you a multitasker?  How does it work for you? How do you react when people around you multitask?