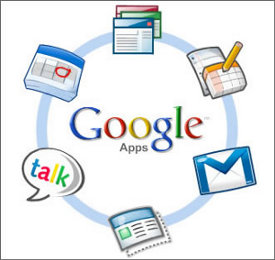 We've been kicking around ideas for making the Matrix Group intranet better.  During a recent meeting, the Director of Software Engineering wondered if we should switch from our intranet calendar to the Google calendar. Whoa, I thought. Put my company calendar and personal schedule on Google? My mission-critical data that I would die without?  No way.
But then I got to thinking. Gmail is a seriously good e-mail service.  Google Analytics is so ridiculously good that yes, I would pay for it; in fact, I would pay lots of money for it (don't get any ideas, Google.)  And before Google bought Postini, it was already a best of breed, commercial anti-spam service.
So I did a little more research on Google apps.  It turns out that the Google apps, terms and conditions I'm familiar with are for personal use.  But Google also markets its services to companies and schools.  Google offers the same services (Gmail, calendar, docs, Web site hosting, and Postini) to companies for a really low price ($50 per user, per year).  So why is the corporate version of Google Apps not free?  For the money, you get a 99.9% uptime reliability guarantee (for Premier Edition users), mobile device support, 25 GIG of storage, and the Google promise of security and compliance.  Phone support is supposedly also available, but I can't find reference anywhere in the Terms of Service to back-up and retention of data.
So now I'm intrigued and impressed.  Google apps look great, work great, are easy to use and are super reliable. But I still remember how my Magnolia bookmarking account just vanished last year.  And  while I wasn't out any money, I was out all my bookmarks.  Thank goodness I was able to recover some of my data from an RSS feed!
So are Google Apps truly ready for the corporate prime time?  Would I trust Google with my most important and mission critical data and functions?  How about you?  Would YOU trust Google with your calendar, e-mail and docs?