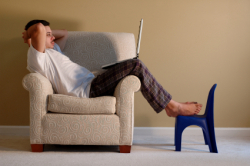 Last Thursday, when the National Weather Service was calling for a blizzard in the DC area, I had a choice to make:  open on Friday but probably close early, close the office OR keep the office open but let everyone work from home.  On Sunday night, with roads still largely impassable, federal and local governments announcing closures and public transportation down for the count, I faced a similar choice: declare the office closed on Monday and give everyone a snow day OR keep the office open and let everyone work from home.
While I'm sure most of my staff would have loved a snow day or two, as a small business owner, I know that when my staff isn't working, we're not generating billable time, which means a bad month in revenues, or worse.  So, since Friday, I've kept the Matrix Group office officially open but let everyone work from home. Here's why:
Most staff appreciated not having to battle the bad roads to keep working and avoid taking vacation days.
Although most of our clients are in the DC area, we have clients all over the country; the latter expect us to be open.
It's precisely when our clients are not able to serve their customers and members physically that they rely on their Web sites to be open for business virtually.
Letting staff work from home let us put our pandemic/DR plans to the test.
The results have been mostly good. With the exception of staff who lost power at home, everyone scheduled to work has been able to work.  Here's what helped:
The Matrix Group network administrators worked hard to give the entire staff VPN access to their desktops and the network.  In fact, until today, the network admins somehow made it to the office every day.
We established a protocol for keeping in touch via Instant Messenger (IM).  We each announced to the entire staff when we started work each day, we stayed on IM, and we kept our statuses current to let other staff know if we were AFK (away from keyboard) for lunch, shoveling, etc.
We used a free conference call service to conduct conference calls between staff and with clients.
We use Webex to review documents and pages together, as well as Skype and Yahoo!Messenger to do group chats.
Staff kept in close touch with their managers to discuss their plans, priorities and workload.
On Tuesday afternoon, I polled the entire staff and asked for their feedback re: working from home.  I learned some surprising things:
Nearly everyone complained about latency on the VPN.  It seems we saturated our two T1 lines with all the remote access connections.
Many staff members have cell phones only and they reported difficulties doing lengthy conference calls on their cell phones or were worried about running out of minutes.
Most people missed the energy of the office, being able to conduct business face to face, and the convenience of nice computers, multiple monitors and fast access to the Internet.
Several people complained about missing their chairs!
Many staff members reported greater access to their managers (although I suspect it's because managers were less likely to be on the phone with so many clients not working!).
By Day 3, many staff were experiencing cabin fever in a big way.
Those of us who are parents tended to take longer breaks AFK to take care of the kids.
All in all, I'm pleased with the Work From Home experiment.  If we do have a pandemic flu, we'll be ready.  I'm grateful to have such a hard-working and committed staff; I feel like they've stayed in good spirits and have been very productive.  As for me, I miss the office, I miss my staff, I miss my chair, I miss my quiet office and I'm ready for my five-year old to be back in school!
How about you?  Did your company stay open or close during Snowcalypse?  How are you dealing with all this craziness?