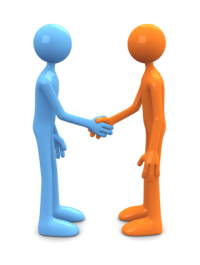 I was arranging lunch with a vendor and suggested Kora, the hip, new Italian restaurant in Crystal City.  I wanted to e-mail my contact Kora's address, phone number and a link to a Google map.  Alas, the entire Kora site is in Flash, which is beautiful, but it's not very user-friendly.  The biggest problem?  I can't copy and paste the contact info to include in an e-mail and  paste into Google Maps.  I know, I know, it' s not a big deal to retype the address, but I'm a picky consumer.  I want to be able to copy and paste easily.  Even better, I'd love a way to share the address page or just click on a map.
This got me to thinking.  What are all the ways, big and little, that we make it difficult for our customers and potential customers to do business with us? Consider these examples.
A few years ago, my husband and I were shopping around for a mortgage.  I called three bankers.  One was only available between 7am and 3pm.  Another sent me 20 pages to fill out about our assets.  The third asked me when it would be convenient to call (7pm), asked me to send bank and 401(k) statements so that he could fill out all the paperwork.  Guess who got the business?  At that point, I knew each banker would give us a competitive rate, but Craig Miller from BF Saul made it easy for us to work with him.
During the planning for our office move, I called several vendors about office furniture systems.  One never called back.  One asked me to send her the architect's drawings and information on what we wanted (I didn't yet know what we wanted so I didn't call back.)  The third, Michelle Ferrari from Office Images, offered to come by with catalogs, look at the architect's drawings with me and discuss our needs.  There was no contest.
I called a company to get a reference for someone applying for a job at Matrix Group.  It took me 3 tries before I could figure out how to leave a message in the general mailbox.  I couldn't even imagine calling as a prospective customer.
I've had a relationship with Insurance Designers for a very long time.  Every time I have a question, I call or e-mail Neal or Wendy Cohen and they get back to me promptly.  One time, Matrix Group was applying for some new type of insurance and Neal's office sent over a very long questionnaire, which I couldnot figure out.  I called Neal and he said, "don't worry about it, let's fill it out over the phone."  I love the guy.

I was looking for a specific Thomas the Tank Engine train for my son and I found it for less money (than Amazon) on a small retailer site.  I had questions about the train (because a certain 5-year old had a specific request) but, for the life of me, I could not find a phone number on the Web site.  I gave up, ordered the product from Amazon and prayed that I had ordered the right thing.
I love that live chat is available on so many retail sites these days.  I can get my question answered asap, place my order and be on my way.
The lessons for all of us who sell products or services?
Make it easy for our customers and prospective customers to contact us the way they feel comfortable doing so (phone, fax, e-mail, Web form, smoke signal).
When a customer calls your office, make it easy to navigate the automated attendant voice mail system.  Better yet, have a human answer the call, find out the caller's need and route the call to the right person.
Call people back (yeah, I know, this one's a no brainer).
Don't put too many any obstacles in the way of you sending a quote and closing the deal. I'm legendary in the office for not being quite human before 9am, but if a customer wants to do a call at 7am, I'll be on the line at 6:55am.  I'll be in my PJs, but I'll be on the line.
As a CEO, I'm always on the lookout for ways to make it easier to say "yes" to Matrix Group.  We sometimes stumble, but for me, the important thing is to constantly look for ways to make life better for Matrix Group clients.
How about you?  What site or retailer do you love to do business with and why?  And who makes it impossible to do business with them?  Got any horror stories?