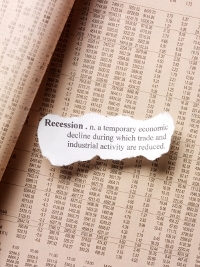 Okay, it's official. The economy is in a recession, but what are you doing about it? What is your company or organization doing to weather the storm or even thrive in it?
I was recently interviewed by Jill Foster for the Network Solution blog on a variety of topics, including using social media for recruiting and what we're doing here at Matrix Group to survive this hellish economy.
When our fiscal year ends next June, I want to be able to say that we were counter-trend and that our company grew, despite the recession.  Here are my top strategies for surviving this economic bloodbath.
Stay close to our customers. We're listening extra hard when customers give us feedback, request new services, and share their pain points.
Keep marketing. I'm seeing my competitors cut back on their marketing efforts, but here at Matrix Group, we've expanded our sales and marketing staff, we're doing more webinars, we're using social media, and we're looking at every opportunity.
Manage vendor relationships. When the market crashed, one of my first calls was to our leasing company, whose President assured us that the credit crunch didn't affect us and it's business as usual.
Here's a link to the Network Solutions blog post:
http://blog.networksolutions.com/tag/joanna-pineda/
And here are some great articles I found about thriving in this market.
Geek note: During the interview with Jill, she created a podcast using a service called Utterli. At the beginning of the conversation, Jill dialed a number on her mobile phone, talked into it, then handed the phone to me when it was my turn to comment. At the end of the conversation, Jill hung up and said, "okay, the podcast has been uploaded to my blog." I was dumbfounded. Jill used her phone to create a podcast!
Note to self: create an Utterli account and create podcasts from the next conference I attend.
Second note to self: ask clients how we can combine our Web development services with Utterli to give them a more powerful blogging platform from their meetings and conventions. Any takers?