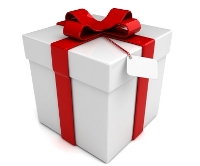 Okay, so it's December 5. I feel like I have tons of time before I celebrate Christmas with my family, but I know that I need to get on the ball with my holiday shopping.  So I asked my staff for their favorite gadget gifts; this is what I got back.  Some items are oldies but goodies, some are outrageous, all are loved by at least one Matrix Group staffer.
Japanese toilet – I've asked Santa for a Japanese toilet this year.  Japanese toilets have heated seats, front and back sprays (heated, too), blow dryers, and even music.  I cannot understand why they are not more popular here in the US!
XO laptop – The OLPC (one laptop per child) movement works like this:  $400 pays for one laptop for you and one for a child in a developing country.  The laptop has a nice screen, terrific software for kids, and it's virtually kid-proof (love the sealed keyboard).
Nerf Vulcan Automatic Heavy Blaster – This is the biggest, baddest, Nerf gun ever.
Yoda Star Wars Force FX Lightsaber – Harout got one and it looks, sounds and feels like the real thing; love the lightsaber hum!
If you're on the Dark side of the Force, you'll love the Darth Maul double-sided lightsaber.

Drobo storage device – This is a nifty storage device that lets you add drives as you need them; Maki loves the online calculator.
Eden, the latest game from Pixel Junk for the PS3 – You'll jump and swing through beautiful gardens; there's no shooting in this game, but you'll have to know your geometry and physics.
iHome alarm clock – Works with your iPod, nuff said.
Garmin and TomTom GPS systems; Maria added a free voice to her Tom Tom – Angus, the Scot – which makes getting directions super fun. You can also get Darth Vader, John Cleese and other famous voices.
Broken image necklace – Yep, it's a necklace with an image of a broken image on a Web page; perfect for the Web designer in your life.
Clocky Robotic Alarm – This is for the person in your life who hates getting up, um, for the person who can't get up in the morning.
Core Memory: A Visual Survey of Vintage Computers – Coffee table book with pretty pictures of old hardware.
Ubuntu mug – For the true Linux fan in your life (fyi, Ubuntu is a Linux distribution).
USB turntable – Hard core music lovers love vinyl records, right?
Wii Fit – We got one a few months ago and love it; I love the cheeky reminders to keep moving.  I'm a Super Hula Hoop fan!
Leapfrog Tag Reading System – CJ is getting one; he'll love using the special pen to read the special books.
Celestron SkyScout Personal Planetarium – This device lets you point at a constellation or planet and it will tell you what you're looking at; works well only if you can see the stars.
How about you?  What are your favorite tech gifts this season?  What are you hoping Santa will give you?