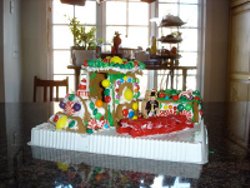 The holidays are all about traditions and last Saturday, my son and I engaged in one of my favorites: we created a gingerbread train.  I've been making gingerbread houses for years, first by myself, then with my niece and nephew. and now with my son.  This year, we updated the tradition to decorate a gingerbread train because CJ is obsessed with trains.
I picked up the gingerbread train kit from Target, the manufacturer is Create a Treat, Ltd.  The cute box says: We want to hear from you, send a photo to myhouse@createatreat.com.
Now, I'm not one to send photos of my kid to various contests.  But I thought it would be fun to send a photo of our finished gingerbread train. So I sent a nice message with a nice story to myhouse@createatreat.com.  So what happened?  You guessed it: the message bounced back with this message:
The message you sent to createatreat.com/myhouse was rejected because it would exceed the quota for the mailbox.
Are you kidding me?  I sent two photos, each about 60K.  It's not like I sent high resolution versions that were 4 MEG each.  I specifically resized the photos before sending the message.
So, Create a Treat screwed up three times:
They created a campaign but then didn't have a large enough mailbox to support the e-mails; c'mon guys, gmail gives you 6 GIG of storage
They missed a great story that they could use on their Web site, marketing materials, yada, yada
They annoyed a mom who blogs (me!)
So retailers, if you launch a campaign where you solicit consumer feedback, please mean it and actually be prepared to receive it. At least act like you care.