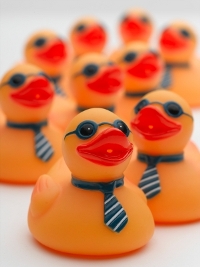 Whenever we start a project, especially if the project is related to branding or design, we ask for time with the CEO, Executive Director, President — the top staff person. It's not always easy to get time with the CEO, and we often don't get it.  However, we have found that our most successful projects have at least minimal CEO involvement, especially in the early stages, when we define goals, users and organizational identity.
Here's why I think your CEO needs to be part of your next Web project.
The CEO can best articulate why your organization needs to exist. Earlier this year, we were kicking off a project with a professional society in the military space. The Executive Director was discussing the mission and goals of the organization when he said "our members protect the world's waterways." A few seconds later, a staff member said, "I've been working here for several years and I've been waiting for that explanation of why we exist and what our members do."
The CEO often has the most nuanced understanding of target audiences. Last year, while working on a redesign for a foundation, we got amazing insight from the President. He perfectly articulated that the foundation's main audiences are corporate, foundation and high net worth individual donors, BUT, in meeting the needs of these donors, the organization will meet the needs of the general public at the same time. The discussion allowed us to focus on the top users, create use cases to test our work against, and make the project a success.
CEO involvement makes a project important. Let's face it. If your boss or your boss's boss is attending a meeting, you want to be there because it's probably really important and you want to know what's going on.
CEO involvement means a project is more likely to get funded. Again, let's be candid. If your CEO is interested in a project, it will be easier to get your budget approved, and you can often tap into those secret CEO slush funds that never seem to exist when your "other" projects are up for review.
The larger the organization, the more challenging it is to get CEO involvement, so any appropriate VP or C-level involvement will work. The key is to have the insight, guidance and perspective of someone who is very close to the organization's mission and customers.