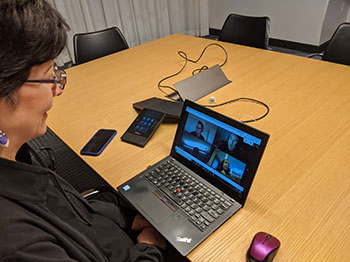 There's no question that this COVID-19 pandemic is proving to be a test of leadership. As a CEO of Matrix Group, I have responsibilities to my employees, my clients, my clients' customers, my employees' families, and certainly our own family.
Many of you know that I'm a member of Vistage, which is the world's largest executive coaching organization. My group of 16 CEOs (run by trained coach Peter Schwartz) has been meeting regularly to help us navigate this crisis. As Pete says, "CEOs bring the weather," meaning we can bring sunshine and energy to any situation, or we can dampen spirits and projects with our attitude and energy level.
So what's working for me and my family?
Work From Home Extended to All Staff
My leadership team decided early to send everyone home. It's been three weeks and I'm hoping that this decision will keep everyone healthy. Of course, it helps that last year, when we moved to our new office, CTO Maki Kato proclaimed that we would no longer have a server room. So the remaining on-premise services went into the cloud or moved to a SaaS (software as a service) platform. Even our office admin can work from home because our phone system allows her to answer and route calls from home, and our accounting system is in the cloud.
Asynchronous Work
Expecting staff to work the same hours is just not realistic these days. Many of us are home with kids, so I made the decision to allow asynchronous work. Since we have good task management systems and good oversight, our productivity has not gone down. While it's exhausting for parents to work and school/oversee their kids, at least they can relax knowing that it's okay to say "I'll be offline for a couple of hours because little Johnny is having a meltdown and we are going outside for a couple of hours."
More Frequent Staff and Family Meetings
I do a daily huddle with my husband and kids, a daily huddle with my biz dev team, a weekly huddle with my Directors, and a weekly huddle with all staff. These check-ins are more frequent than they used to be, but they're allowing me to keep tabs on how folks are doing emotionally and physically, and determine who might need extra support. We start every meeting with a Matrix Group fundamental and ask if anyone would like to check in and tell us how they're feeling. Note that we start with feelings, not tasks.
Business as Usual, When Possible
To the extent possible, we are working as if it's business as usual. We are blessed and grateful that our work has been largely unaffected. Our clients need us to continue work on their websites, database and mobile apps; update their websites, keep communications flowing to their members, and provide back-up for sick staff. So while we're working, we try to block out the terrible things happening outside our homes, because we can and because we must.
One of my DEVs said that he sometimes almost forgets we're in lockdown until the Instacart delivery guy comes around and he's wearing a mask. I hope that by keeping our spirits up AND staying home, we are doing our part to stay healthy and not spread this sickness.
Sharing Zoom, Making More Calls
I've always been a telephone gal. I like to connect with people via phone. These days, I'm making more phone calls, to people I rarely call, or haven't called in decades. It lightens my heart. I've also allowed my staff to use our Zoom accounts to organize Zoom meetups for their own families, friends and clubs. Janna is doing a virtual knitting group meetup every week. And last night, I think there was a meeting of werewolves.
I don't have time for a new hobby, extra baking, puzzles, or a TV marathon. But I do have time for some phone or Zoom calls, and my Duolingo streak (I'm learning Italian and practicing my French) continues!
Preparing for the Worst
My friend Heinan Landa wisely told me that I need to prepare for the time when people I know start getting sick or even start dying. How will I support a family member? A sick employee? The sick parent of an employee? How do we keep working going so that the company stays productive? How do I do this with compassion and understanding? I don't have the answers but I'm working on it.
What are YOU doing to help your company and family weather this storm? Please share. And be well.