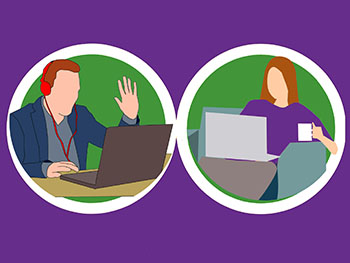 Over the past couple of weeks, client after client has cancelled meetings, tradeshows and conferences. They're scrambling to find out if they can reschedule events or create an online experience worth good money for.
For most of our association clients, their meetings are either in person events or live/on demand webinars. Since most organizations already know how to put on a webinar, here are our tips for making them more interactive, more engaging, and worth paying for (many of our clients don't charge for their webinars).
Deepen the Learning
It's hard to impart a whole lot of learning in a 45- or 60-minute webinar. But you can pack more learning in if you ask more of your attendees. Send them articles to read and videos to watch ahead of time. Let them know that the webinar will be advanced and your presenters will expect some level of knowledge. This way, your speakers can present at a higher level and impart more knowledge.
Add Interactions
I'm not always a fan of real-time comments during a presentation. They're distracting to attendees and presenters. But you can add interactivity by weaving in polls and Q&A into your webinars. These interactions make the online event more interesting, more fun, and often provide insight into the audience's demographics and needs.
Create A Micro-Community
You can further the learning by encouraging conversations with your speakers and attendees. Ask attendees if it's okay to share their names with other attendees. Create a limited-time Facebook discussion around the presentation. Host a Twitter chat around the topic. Create a blog, populate it with content related to the webinar and ask for comments.
If you incorporate some of these ideas into your webinars, your attendees will get more than the hour's worth of content, and hopefully, they'll come away with a deeper sense of connection with the content and your organization. Good luck and please do share your experiences!
Looking for a custom tailored virtual meeting platform that can take your virtual conference to the next level, providing your attendees and exhibitors with a comprehensive, hand crafted experience? We'd love to show you a demo of BeSpeake, our new Virtual Meeting Platform. Let's get it scheduled!