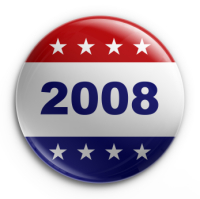 Every election, I give everyone in my office the corny speech about how I grew up under martial law in a country where people couldn't vote, how voting is a privilege, how every vote counts, yada, yada.  Well, this is the first year where everyone on my staff is interested in the election.  I think nearly everyone eligible to vote actually voted.  We had a staff meeting at noon today and only people who voted (or who are not eligible to vote) got free pizza.
I polled my staff and asked them for their favorite election resources.
Here are our favorite sites for tracking the voting results.
Lots of sites about the vote experience.
Here are some miscellaneous links that we liked:
If you're still undecided, GlassBooth lets you take a quiz to find out who you should vote for.
Yes We Can Hold Babies is the "international source for pictures of Obama holding babies."
How about you?  What sites are you relying on for election news and coverage?