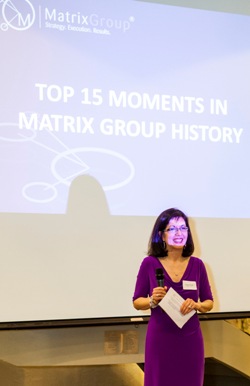 A couple weeks ago, I got to host a big party to celebrate Matrix Group's 15th anniversary. A couple hundred staff, clients, former staff, friends and partners showed up and enjoyed great music, awesome food, a chance to say hello to their favorite Matrix Group staff, and even hear my Top 15 Moments in Matrix history (you had to be there!).
At the party, a client asked me what it's like to run a 15-year old company and what has changed in the past few years?
On the one hand, many things have not changed. Matrix Group is still a web design and development company. We still very much help our clients define their goals, develop a web strategy for achieving those goals, implement the strategy, and then measure the success of the initiatives against the goals. We still work primarily with associations and non-profits. Recruiting is still a challenge because I'm picky as heck about who gets to work here. I still like to get involved in projects and I still make trouble wherever I go. 🙂
So what's changed?
Matrix Group now has a content division. We used to rely on clients for 100% of the content and content strategy. But we found that launches were held up for lack of content and clients struggled with how best to present their content on the web. So a few years ago, we launched an e-marketing division that provides web writing training, copy writing, and copy editing services.
Social media. Big surprise, right? We use social media in a big way to promote the company and generate leads. Most of the original content we generate gets posted to social media platforms. We offer social media services. We recruit through social media.
Mobile has changed everything. It's almost a cliché but mobile is in everything we do. Every website we redesign is responsive, our email templates are now responsive, we create mobile apps, and we help our clients develop and implement their mobile strategies.
We used to have our own content management system and now we implement third party systems. Gosh, fifteen years ago, there were no good, full-featured AND affordable CMS platforms. Today, there are so many good systems, so many years ago, we ditched development of our own system and focused on implementing best of breed systems.
Integration is now a HUGE part of our business. It used to be that when we created a website, integration with a member database was a maybe. Today, it's not uncommon for us to embark on a project where there are a half dozen systems that need to be integrated so that there is single sign-on, unified navigation and taxonomy, seamless look and feel, and comprehensive search.
I'm not involved in most projects. I used to be the number one project manager, then I managed project managers, and now I have a Director of Operations who manages the PMs and day-to-day operations. I still review and approve strategy and information architecture deliverables, I sometimes sit in on design presentations and I consult on large integration projects. But for the most part, I manage the office, I bring in business, and I manage relationships. Of course, on the rare occasion that a project goes south, I get involved to make sure the project gets back on track. I'm called the Chief Groveling Officer for a reason.
We have different types of toys in the office. In our Old Town offices, we had dogs, the staff played a lot of pool, and we had little toys everywhere. In our Crystal City office today, we can't have dogs (sniff!), the staff play more pinball than pool, we have Razor scooters for getting around, and there are LOTS of Nerf gun battles.
Communication is harder. I joke that I used to be able to call a staff meeting, explain a few things and the entire staff would be on the same page. Today, with a bigger staff, remote staff, people in and out all day, staff meetings where there are inevitable absences and a lot more distractions, I have to make sure important announcements are sent via email and IM, posted to the intranet, discussed at staff and team meetings, and reinforced by managers.
Ultimately, what drives me is the knowledge that I'm making a difference in the lives of my staff, and as a company and we're helping our clients change the world. We have modified our services and changed our processes to better meet the needs of our clients. The more things change, the more things stay the same.
Last thing: thanks to all of our clients, friends, staff, and supporters for making the last 15 years unforgettable, and many thanks to those who came out to celebrate with us. We had so much fun! You can check out the photos from the party on our Facebook page or on Flickr.