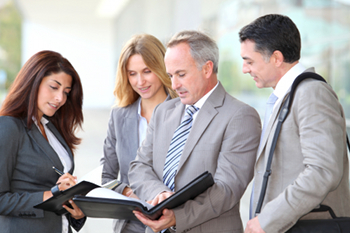 Whenever I meet with clients about their websites, the conversation inevitably turns to the topic of stock photos. Most companies are photo challenged, so they ask us to help them find good stock imagery. My answer? Just say NO! to stock photography, especially of people!
I feel hypocritical even writing this blog post because this blog is full of stock images. Heck, I've even blogged about Matrix Group's favorite stock image websites.
So when and why do I encourage my team and my clients to say NO! to stock photos?
When the web page is about a place or an idea, then I think it's okay to use stock images. You can use a stock image of New Orleans, or use a stock image to convey an idea, like food safety or computer security. Of course it's preferable to use your own images, but you almost need to be a pro to develop photos of concepts or ideas.
But when the page or website is about your organization and what you do for your customers and members, it's best to use images of your own staff and customers. Otherwise, it's like bringing a fake boyfriend to a wedding; the relationship isn't real! (I know I'm going to get in trouble for this analogy.)
When you are talking about what you and your employees do and stand for, the pages just ring false when you use stock images.
When talking about your customers, who they are, and why they matter, the pages lack credibility because you are using other people's customers! And God forbid the image you chose winds up on a competitor site!
"But Joanna," you say, "it's hard to get good images of real people, my staff, my customers, my partners." Yes, I totally agree, but I absolutely believe the effort is worth it. Here are some tips for developing a stock-free mindset.
When you can, hire a professional. We recently hired a pro to take photos of the staff and office. We wanted a collection of photos to use on our website, our proposals, and social media. We compiled a list of the shots we wanted (head shots of senior staff, meetings, lunch, etc.) and we made sure we owned the images outright so that we can use multiple times on different platforms.
For the times you can't hire a pro, invest in a good DSLR camera. There are really great DSLR cameras for under $1,000. I absolutely love my Lumix camera, which I purchased about three years ago for $899. This camera made our Creative Director wonder if I had recently taken a photography class because my photos looked worlds better once I started taking photos with  my Lumix.
Have your camera with you at all times and take lots of pictures. I believe that if you take enough photos, you'll take at least a few good ones. Moreover, a good designer can take an okay photo and make it better through cropping and touching up.
Learn the principles of taking good photos by taking a class, reading the manual and reading blogs. Even a few tips can help you take much better photos. For example, I learned a long time ago to get close and to frame my photos so that people aren't smack in the center of the image. Here's a great list of photography blogs.
Matrix Group is in the midst of a website redesign. (It's amazing how painful it is to design a website for your own company.) Creative Director Alex Pineda said, "there will be NO stock images on this site." So the team has gone about making it so. The images will not be perfect, but in a sense, that's the beauty of using real people: you can tell they're real precisely because they are not perfectly dressed, made up and staged.
I hope I've inspired you to take the NO stock photos pledge, at least on company pages where you should really be showcasing your staff, customers and partners.