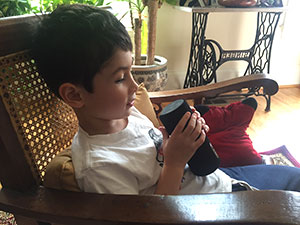 For my birthday this year, my husband bought me an Amazon Tap. The Amazon Tap is a Bluetooth and Wi-Fi-enabled speaker that lets you use voice commands to play music, check the weather, order stuff on Amazon, look up things on Wikipedia, and on and on.
Who knew that this little speaker would quickly become my gadget of choice? I carry my Tap with me everywhere!
The Tap is powered by Alexa, Amazon's voice-activated virtual assistant. I connected my Tap to my home and work Wi-Fi, my iPhone and my Alexa app. I then connected my Alexa app to my IHeartRadio app and my Amazon app. There are many more Alexa integrations to what Amazon calls Skills. And since I'm an Amazon Prime member, I have access to Prime Music.
I mean, look at the kind of day I now have with the Tap around:
In the morning, I say, "Play NPR," and Alexa starts playing the live stream from WAMU, the local NPR affiliate.
While I'm cooking or cleaning, I'll say, "play 80s music," and Alexa will say "Playing 80s on Prime Music."
While getting dressed, I'll say, "What's the weather?" and Alexa will tell me the forecast from weather.com.
If I want to know about something, I'll say, "Wikipedia Abraham Lincoln," and Alexa will read the first paragraph about my favorite President. I can ask for more info, and Alexa will keep reading.
I can ask Alexa to read my Kindle books out loud.
And on Amazon Prime Day, I ordered a drone with just two voice commands!
I haven't yet tried it, but I can connect Alexa to a Domino's account and order pizza by voice.
I can't do everything on my Tap, but it's coming. And from what I read and hear, voice is the new new thing. The XFINITY voice remote already lets you search for programs by voice. We can already talk to our cars. And we endlessly give commands to Siri on our iPhones and iPads.
Amazon allows developers to teach Alexa new skills. Apple just opened up Siri so that third parties can give Siri access to their apps.
It won't be long before we'll talk to our refrigerators, stereos, ovens, and furniture, and interact with websites and apps with just voice commands.
I've seen the future… er… rather, I've heard the future, and it sounds bright!