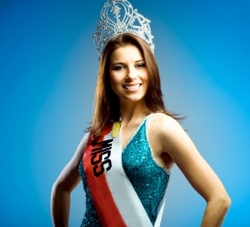 I haven't watched a Miss Universe pageant in a long time, but a part of the program will stay with me forever:  the part where Bob Barker says to the 1st runner up something along the lines of:  In the event that Miss Universe is unable to serve, you will take the crown.
What on earth does the Miss Universe pageant have to do with running a business?
Well, it turns out that if you run a business long enough, no matter how successful you, there are times when you don't take home the prize.  I can remember deals where we came soooo close to winning the account, but ultimately, we came in second place, or 1st runner up.
But unlike a Miss Universe pageant, the 1st runner up in business often has a good chance of taking the prize when:  the first choice can't deliver, the client's needs outpace the capabilities of the selected vendor, or a change in staffing triggers a review of the account and the contracts.
When Matrix Group comes in second, yes, it totally sucks, but here's what we try and do:
We ask for a debrief so that we can learn why we didn't win the account. We learn a lot from these debriefs and the prospects know that we care about their feedback.
We ask the prospect if they'd like to stay on our list and continue receiving news about our launches and webinars, and sign-up for our RSS feeds, blog or social media pages.  This strategy allows us to keep in touch with the prospect with little effort and in a non sales-y way.
We ask the prospect to please keep us in mind for future projects; this lets the prospect know that we're not upset (even if we are), that we still want to do business with them, and the door is always open.
We check back every six months or so and monitor the site to find out when the new site goes online.  If we don't see the site launching according to the scheduled timetable, we drop an e-mail or check-in with a phone call.
Matrix Group has been a proud 1st runner up that ended up taking the crown in many, many instances.  We landed the Catholic Charities account over nine years ago when the first vendor stumbled; we still have the account today.  Just this week, I heard from a prospect from 2005 that had selected another firm for their redesign; the redesign is still not done and they've selected Matrix Group to finish the work!
How about you?  Has your company come in second (1st runner up) and then taken the prize?  What strategies do you use to take the prize away from Miss Universe?  Finally, do you ever watch the Miss Universe pageant and would you ever admit to it?