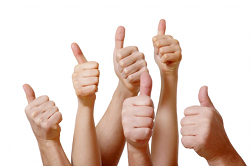 Each week, as the main administrator for the Matrix Group Facebook fan page, I get a weekly report from Facebook that details the change in number of fans (people who have "liked" our page), as well as the number of views and interactions.
Getting lots of fans and interactions is the holy grail of Facebook marketing. The more people "like" your page, "like" your posts, click through to your offers, comment and otherwise interact with your page, the more likely they are to become loyal fans and customers.
So how do you increase likes and interactions on your Facebook page? Here are my top tips, based on the experiences of the Matrix Group marketing team.
Give your Facebook updates an authentic voice. What most people love about Facebook is the fact that they're reading their friends' thoughts and comments in near real-time.  And these comments are not written in corporate-speak; they read and sound the way people talk, like they're having a conversation with you.  Your company's Facebook posts should probably not be too casual, but they should sound less like a press release, and more like a comment from a friend or colleague.
Don't just RSS your news items or blog posts. I've said this before but if all you're doing is republishing headlines from your website or blog, you're not giving people an incentive to follow you on on Facebook because the information is the same.
Don't automatically post your Twitter updates to your Facebook page. Why?  Because you're probably chattier on Twitter than you are on Facebook and chatty people and companies dominate Facebook streams, so fans are more likely to right-click and press Hide.  Besides, on Twitter, all you get is 140 characters; you get more words on Facebook, why not use them?
Make your posts stand out by adding photos and videos. You know the old saying, "a picture is worth a thousand words."  It's definitely true on Facebook and it' s not surprising.  Most people scan their Facebook streams and a photo or video will catch people's attention much more than a plain text status update.
Ask for feedback. I'm always amazed that the simple act of soliciting feedback often results in feedback.  Funny how that works.  Heck you don't even need to ask for serious feedback.  Ask your fans what color to paint your office walls; or ask them to comment on your holiday menu.
Spark a debate. If you're comfortable doing so, posting about topics that generate a little heat are great for interactions.  But always keep the language appropriate.
Use Facebook apps to add interactive features to your Facebook page. For example, you could create a custom tab, sponsor a contest, or host a game.
Offer exclusive benefits to your followers. Last holiday season, Snapfish offered a daily discount on its Facebook page that generated lots of interest, clicks and comments. I know because I could see the activity and I certainly checked the Snapfish Facebook page regularly for deals!
Test, test, test. My marketing team is always playing around on our Facebook page to see what time of day is best for posting, the types of messages that generate interactions and ultimately sales, and how to wordsmith updates to generate the highest number of interactions.
Here are some good resources on Facebook marketing and interactions:
Zimply Zesty has 7 ways to increase interactions.
A study by Vitrue found that morning posts are more effective, users are more active at the top of the hour and weekdays are busiest.
Smart Passive Income has some great how-to videos on how to create and customize your Facebook page.
How about you? What tactics have you used to increase interactions on your Facebook page?  Please share your stories!