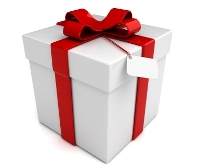 I have a Christmas app on my iPad. When I checked it today, it reminded me that there are 23 days until Christmas Eve. Yikes! Even though I did a bunch of shopping on Black Friday, I still have a lot of buying to do! As always, I polled my staff and asked for their top gift ideas of the season. Here's what I got back:
Everyone who doesn't have an Apple iPad wants one. At least a couple of staff members want an Android tablet.
A bunch of staff want the new Amazon Kindle, while a few are getting or giving the Nook Color e-reader.
The gamers in the office are getting the Kinect for Xbox 360 and/or the Playstation Move. Both devices take gaming to the next level because your body becomes the controller. Watch out, Wii!
For the PS3 gamers who get the Move, we like Sports Champions and R.U.S.E.
The L5 Universal Remote turns your iPhone or iPod Touch into a universal remote. Very slick.
The Roku Player lets you stream Netflix to your TV, for a lot less money than an Apple TV, PS3 or TiVo.
The Parrot AR. Drone Quadricopter powered by your iPhone, iPod Touch or iPad is ridiculously cool. There's even a live camera feed from the quadricopter to your Apple device so you can see the view from above.
Is it possible to have a cool vacuum? Yes if it's a Dyson. I want the hand vac but it's always out of stock!
The Flip UltraHD video camera can record high def video and surround sound with the press of a button and automatically convert your video to be YouTube compatible.
The Logitech Google TV lets you stream videos from various providers and run Android apps.
We like this USB car charger for when your devices run out of power and you need to charge them on the fly.
You'll love this Spy Net secret mission video watch. Very James Bond.
I recently got a Panasonic Lumix G2 DSLR camera. Love the touch screen, the smaller form factor and of course, the gorgeous photos I'm now taking.
If you've got a Lego lover in the family, the Lego set of the Death Star from Star Wars will make them happy. It's got over 3,800 pieces so someone will be busy for a while!
If you want a non-techie gift idea, the David Sheldrick Wildlife Trust lets you adopt orphaned animals and receive e-mail updates throughout the year. Kids will love this one!
If you want more ideas for geek gifts, visit Ars Technica's holiday wish list of gizmos, gadgets and gear.
How about you? What are your top gifts ideas this season? What is on your Santa list?