Office moves are never fun. Our move was months in the planning, but we were still scrambling last Friday night, the day before the movers arrived.  The plan was to complete the physical move on Saturday, then have all staff come in on Sunday to set-up their own work areas, test the network and phones, and help unpack the common areas. There were a million tasks to be done? How was it all going to get done? Then we had a great idea: let's use SCRUM, do a one-day sprint and complete as much of the move as possible. Here's what we did, with amazing results.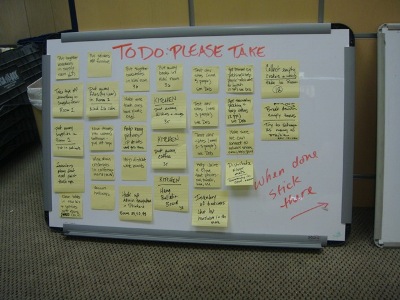 Here is our Office Move To Do List at the start of the day on Saturday.
Jaime, the Director of Administration, was the SCRUM Master. She was in charge of managing tasks, answering questions, and making sure people didn't have any impediments to getting a task done.
I was the Product Owner since I am ultimately responsible for the office.  I was consulted on priorities and tasks that affected the entire office, like the kitchen set-up, where to put up posters, etc.
We set-up a SCRUM board in the reception area. As staff arrived, they were told to: go get a doughnut, set-up your work area, then grab as many tasks as you can to help complete the move.
The SCRUM board was covered with tasks written on Post-It Notes.  Jaime and I populated the initial tasks, but we invited other staff to suggest more tasks to the SCRUM Master.
When a staff person completed a task, they initialed it, then put it on the DONE board.
Since Jaime and I were the leaders of the project, we didn't have as much time to unpack our own offices, so we asked for help by putting up tasks on the board.  We got a lot of help as a result!
We didn't have people milling about, wondering how they could help, and feeling frustrated for lack of direction.
Everyone who came in on Sunday helped.  Some people completed a lot of tasks, while others completed just one.  What mattered was that so many tasks that normally get delegated to the admins got done.  The Director of Client Services wiped all the white boards clean then distributed them.  A senior Developer wiped down the credenzas in the conference room.  A Project Manager put up the bulletin board in the kitchen.  Three staff members unpacked the kitchen.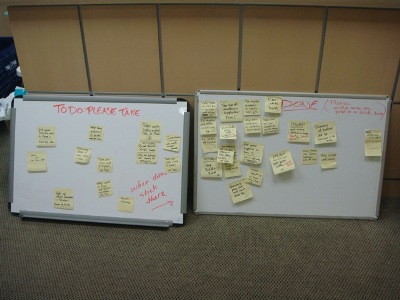 Here is To Do List next to our Done List by Sunday evening.
Nearly all remaining tasks were done by Wednesday afternoon.
The results were unbelievable. By Sunday evening:
Pretty much everyone had their workstations working.
The dev sites, network shares and printers were up and running and tested.
The kitchen was unpacked and the coffee maker functioning.
The new VOIP (voice over IP) phones and Internet access were working and tested.  (It's taking a few days to get used to the new phones, I think transferring a call is taking too long, and the hold music needs to be updated — but we're getting there!)
The best part?  Instead of the move being a drag, we had a party! (Doughnuts, pizza, music and beer helped!)  And I didn't hear complaints about how things weren't working as planned because everyone helped and knew how hard the admins and net admins had been working to ensure a smooth move!
We're now trying to figure out how to use a similar process for other, non-technical projects at Matrix Group.  How about you?  How have you used SCRUM in unique ways and situations to get a project done and done well?