A couple of weeks ago, I called Harris Teeter to order a Thomas the Tank Engine birthday cake for my soon-to-be 5 year old son. The conversation went something like this:
Me:  Good morning, I want to order a birthday cake with the Thomas design.
HT staff:  Sorry, we don't have Thomas cakes.
Me:  But you have a Thomas cake on display in your bakery section.
HT staff:  Sorry, we don't have Thomas cakes.  I think that display is old.
Me:  I saw Thomas cakes in your catalog.
HT staff:  I haven't seen the catalog lately.
Me:  Okay, I guess I'll call Costco.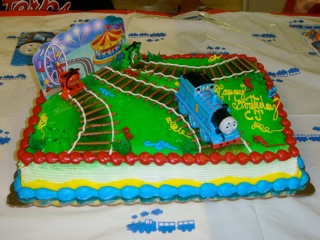 Lucky for Harris Teeter, I am a big fan of the store and was not to be deterred.  I went to the store, found a manager, showed him the Thomas cake on display and asked if I could please order it.  Yep, he was happy to take my order, especially since Thomas cakes are expensive!  I told him that I had called the store a few days earlier and the person said HT didn't make Thomas cakes.  The manager apologized and said that perhaps the person I spoke with was new or didn't know about the special order cakes.
Yikes!  How many sales has HT lost because of this bakery guy?  Could this happen in your company? I know this kind of "revenue leakage" has happened in my organization!

A few years ago, one of my Project Managers was telling me about a call she had just completed with a client.  The client wanted to know if we could help with an online voting system.  The Project Manager explained that Matrix Group did not do online voting.  You can imagine my jaw dropping at this; the conversation went something like this:
Me:  Um, why did you tell the client we don't do online voting?
PM:  I don't know of any voting projects we've done and my team hasn't worked on any.
Me:  Uh, but you've only been here less than a year and you manage 1 of 4 teams.  How do you know that the other teams haven't done online voting or that perhaps we've done online voting in the past?
PM:  Oh, I didn't think of that.  Sorry.
Me:  Let me call the client and see what I can do.  (tearing my hair out)
Here were my take-aways from this exchange, reinforced every day by interactions with folks like the Harris Teeter bakery dude:
We can't funnel all calls to "trained" salespeople so it's important that every person in the company what the company does. Clients and prospects talk to staff at all levels at Matrix Group and they ask them all kinds of questions, so staff need to know what Matrix Group does.
This training needs to be reinforced regularly and staff need concrete examples they can relate to.  We do a lot of sharing at Project Manager meetings, staff meetings, and designer/developer/front-end developer meetings.
Staff need to understand in broad terms what we do and don't do. For example, we cover a lot of territory when it comes to Web, but we definitely don't manage internal networks and e-mail servers.
Staff should know when to say yes, when to say no, and when to say "let me check."
We store information about our projects on the company intranet, searchable by client, keyword, category and date range. I try  to remind staff that this resource is available and a must-use tool.
How about you?  What kind of revenue leakage is happening in your firm?  What are you doing about it?