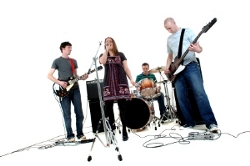 I love Rock Band for the PS3. A friend lent his set a couple of weeks ago to me and my husband and we've been enjoying learning how to "play" drums and guitar, as well as do vocals. Rock Band comes with a collection of songs but you can buy scores of other songs (in different genres) on the Sony store.
So last night, I paid $1.99 for the Police's Synchronicity.  I love this song.  I loved the album when it came out.  I even saw the Police in concert for this tour.  So I was happy to shell out $2 to be able to sing one of my favorite Police songs.
Then it hit me:  I've paid for Synchronicity four times:
When the album first came out, I bought the LP.
Then I bought the cassette so I could have it in my dorm room in college (yeah, I know, I'm dating myself).
When I started my CD collection, I of course bought Synchronicity on CD.
Last night, I paid for Synchronicity so I can do my best Sting imitation while playing Rock Band.
I can think of a couple dozen other songs and albums that I've paid for multiple times as technology has advanced and I "had to have" a favorite song collection in the new format.  When it comes to videos, the same thing has happened.  I've paid for Harry Potter in Full Screen format, Wide Screen format and Blu-Ray.
I wish I could pay one fee, add myself to a master database, and be able to download my songs and movies in different formats, but I guess that's not a sustainable model for musicians, music labels and the movie houses.  Or is it?  If more and more of our music and videos are being purchased on demand from Web sites like iTunes and Amazon, will the platform really matter much in the future?
Oh well.  I just wonder how many more times I'll purchase Synchronicity, Stop Making Sense, The Matrix, Lord of the Rings, Harry Potter, yada, yada.