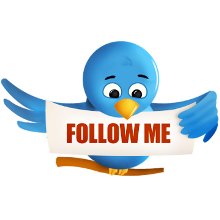 Many clients ask me how to get started with social networking.  Should they blog, be on Facebook or LinkedIn, or should they start tweeting?  For many organizations, I recommend Twitter.   The concept is simple:  Twitter lets you broadcast short updates (140 characters or less) to the people who "follow" or subscribe to your updates. These updates are called "tweets."  Twitter is also called micro-blogging because people tweet about what they're doing, thinking, eating, reading, yada, yada.  So how do you get started?
First, you need to set-up an account on Twitter.com. Unlike Facebook or LinkedIn, you don't connect your organization's Twitter account to a personal account.  And both people and organizations have equal status on Twitter.  Not sure if you're ready to start tweeting?  I recommend setting up an account anyway so that somebody else doesn't grab your name.  And be sure to record the username and password on the account so that if the person in charge of tweeting for your company leaves or goes on vacation, someone else can do the tweeting.
Next, you need to personalize your account. I recommend uploading a logo or image, and entering a short description of your organization plus your Web address.  This is critical to helping others find your company, and to encouraging others to follow you.  For example , I generally don't follow people or organizations that don't have a description or URL.   You can also get fancy and customize your background image.  Check out how Business Insider customized their Twitter account with images from their Web site and job fairs.  I also like the backround image for Pocket.
Now that you've got your account set-up, you need to start tweeting!  If it's your organization that's tweeting (as opposed to an individual), I recommend developing guidelines for what and when you will tweet.  For example, a think tank might tweet about new commentary and analysis, the organization in the news, relevant news, interesting statistics, and upcoming events.  A software company might tweet about upcoming releases, an interesting customer request or inquiry, a co0l feature, company news, and power user tips.  A trade association might tweet about industry news, current research, new blog posts, key legislation, compliance tips, upcoming conferences, and market trends.  The key is to NOT just tweet the headlines from your press releases.  Your followers expect new insights, memorable quotes, key stats, cool and useful Web sites, and news of interest.  Check out how the National Park Foundation tweets about NPF activities, fun events for kids, gorgeous photos of parks, national park news.
Okay, so you're tweeting, how do you get followers? Like anything else, you need to promote your new Twitter account.  When Matrix Group started tweeting, we let our Facebook fans know, we announced in our e-mails, we added a link to our e-mail signatures, and we linked up from our Web site and this blog.  Another idea is to follow the thought leaders in your industry or field; chances are, others following those thought leaders will find you and follow you.  You will find that a mix of individuals, organizations and bots will start following you; look through the accounts and follow who you think will provide value back to your organization.
Manage your tweets. When you first get started on Twitter, it's easy to read every tweet and track your followers.  Over time, you'll probably get overwhelmed by the volume.  I recommend using a program like Tweetdeck or Hootsuite.  Personally,  I use Tweetdeck and have created groups for friends, clients, companies/organization, CEOs and thought leaders.  This way, I can still peruse the flood of tweets from the 300+ accounts I'm following, but I can also quickly zero in on the tweets from the people and orgs I care most about.
Interact and create relationships. Your followers can interact with you in different ways.  They can send you a direct message; they can mention you in a tweet, and they can retweet your tweets (retweets usually have RT in the post).  Be sure to check your direct messages and @ tweets on a regular basis, respond to inquiries, and thank people for retweeting.  For example, when Matrix Group tweeted about a project manager opening, we got a bunch of direct messages; we responded to every single one, landed great retweets, and got some great candidates as a result.
Here's a YouTube video from CommonCraft on setting up your Twitter account.  And here's more great advice on getting started with Twitter from Dave Fleet. Finally, the Twitter site has useful information, including how to nudge someone or get your Twitter statistics.
I could go on and on about Twitter, but I'm already up to over 750 words in this post, so I'll stop here and ask you all: when and why did your organization get started with Twitter and what are your top tips for using Twitter effectively? Finally, if I can help you get started with Twitter, please call, e-mail or tweet.