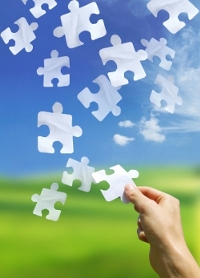 In my last blog post, I referenced the content strategy that the marketing team at Matrix Group has developed to keep our Web site and social networking pages fresh and interesting.  Several folks asked for more details on our content strategy, so here you go.
Our communication/conversation strategy has several elements:
Communication schedule. We have mapped out a schedule that delineates what we will post or send out every day, week, month, and quarter.  For example, we strive to tweet every day, update our Facebook page twice a week, and post new blog entries twice a week.
Content strategy. We believe that it's important to NOT post the same stuff across all channels.  For example, on the Matrix Group Twitter account, we tweet about association/non-profit news, how companies and organizations are using the Web and social networking in interesting ways, cool sites, Web standards, site and application launches, job openings, Matrix Group events, and fun stuff going on around the office.  My personal Twitter account (@jmpineda) is different; I will post personal updates, sites I love, business news and trends, cool gadgets, blog posts and Matrix Group events.  You'll notice that there is overlap in what we tweet when it comes to Matrix Group; otherwise, what we tweet between the two accounts is very different.  That's intentional; we want our followers to have a different experience on each Twitter account.
Tone and voice. Our Creative Director, Alex, says tone and voice are very important, no matter what the vehicle, so we have guidelines for the writing across our sites and pages.  Our updates are always professional, not formal but not too casual either, friendly and warm.
Engagement and response. Since we seek engagement across the different channels, we strive to respond to every single e-mail, blog comment, direct tweet, etc.  We may not get back to folks instantly, but inquiries and comments get responded to within a day or two.  For example, when someone asks a question on my blog, I post a comment AND I send a direct e-mail.
You'll notice that we don't have a separate social networking strategy.  Instead, we have integrated the social network sites into our overall communications plan. All of this is working for us.  Leads from the Web site have increased by several hundred percent, the quality of the leads is amazing, we are getting good candidates for our jobs, and clients are interacting with us in new and different ways.
How about you?  What content and communication strategies are working for your organization?