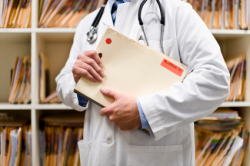 I went for my annual physical yesterday. I love the practice I go to, but I hate feeling like I'm a nameless, faceless patient, even though I've been a patient for a decade. I also hate that I have to fill out the same infernal forms over and over again and write my name, address and insurance information multiple times. My check-in went something like this:
Me: Hello, Joanna Pineda, here for a 3:15 appointment.
Receptionist: Hello, please sign in. Has any of your information changed since your list visit?
Me: No.
Receptionist: Okay. Wait, you need to fill out new forms. (Hands me blank forms)
I sit down and sigh as I realize that I am giving my doctor all the information she already has.  Not one thing in my profile has changed.  I also have to agree to a 4-page HIPAA privacy statement, which infuriates me because I have about three minutes to review the document.  C'mon doctor, can't you:
Print out my information and let me confirm that nothing has changed or let me tell you just what has changed?
Send me the HIPAA privacy statement ahead of time so that I can really study it?
Thankfully, because of my work, I'm familiar with HIPAA privacy statements and my rights, but what normal person takes the time to read and understand the document and his/her rights?
This doctor visit makes me think of how Matrix Group clients want and expect that we will know them, their organization, their contact information, their projects. It's a joke around the office that many clients have achieved one-name status around here, kind of like Madonna or Cher.  All the receptionist needs to say is, "Rajani (Rick, Pat, Sue, Merla, or Adrianne) is on the line" and pretty much every staff member knows who she's talking about.  Of course, more common names like Dan or Tim need a client name, but if you're a frequent caller, our First Impressions Officer will probably know you by voice.

And when a client sends in a request for an enhancement to an existing design or application, they expect that we know the app inside and out and will think of all the nuances associated with the request.  Even if the app was created five years ago.  Only makes sense, right?
Remember Cheers?  The bar where everyone knows you're name?  I think that's what every client wants — to be known, to feel special, to not waste their time explaining information you should already know. So at Matrix Group, we've spent a lot of time on our systems, communications and intranet so that clients always feel known when they call or visit the bar called Matrix Group.
Of course, we stumble every once in a while.  A few years ago, when our current receptionist was new, she asked a longtime client the name of his organization, which of course he provided.  But when he got to me, he needled me about how the receptionist didn't know him.  Mr. client was very sweet about the whole thing, but the message was clear: I'm a longtime client, your staff should know me.
How about you? What do your clients expect from you? And how do you make them feel comfortable that you "know them?"