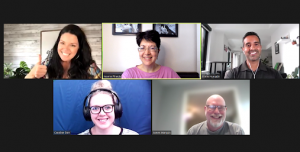 I'm attending Non Dues-a-Palooza (NDAP) next week in Nashville, in person. NDAP is a conference devoted to helping associations and nonprofits increase their non-dues revenue by bringing together execs and solution providers, through case studies and panels. This will be my third NDAP event and I'm pretty excited.
Even though the event will be in person, Teri Carden, the founder of NDAP decided to do a digital drop-in event a week before the actual event. She held a two-hour Zoom meeting and sent out an email to all attendees, asking them to drop in at any time during the two hours to say hello, meet fellow attendees, and share what's on our minds before we come to Nashville.
I loved this idea because:
I got to network with some people before the event next week

I got to schedule coffee with someone I want to do business with

It was fun to see Teri

The drop-in got me excited about next week
I think this drop-in event shows that even as we look to a post-pandemic meetings landscape, we can and should continue to mix in person and virtual to create more high-impact events. And as usual, many thanks to Teri for showing us the way!