My younger son and I are listening to Project Hail Mary by Andy Weir. Andy Weir also wrote The Martian, which was a great movie and an even better book. Both The Martian and Project Hail Mary are adventure books set in space. Both are full of science and science fiction. If you love space stuff and science fiction, buy this book.
Anyway, Project Hail Mary inspired me to take the boys to the Udvar-Hazy Center of the National Air and Space Museum. This museum is full of all types of vehicles that fly: planes, helicopters, amphibious ships, missiles and drones. There's even a Concorde plane, the space shuttle Discovery, an honest to goodness SR-71 reconnaissance plane (my favorite), and a scale model of a Martian lander and rover.
Whenever we go to Udvar-Hazy, I look forward to speaking with the docents, who are usually (in my experience) knowledgeable and friendly former NASA, Boeing, or Lockheed employees, or just plane or space buffs. Alas, because of COVID, there are no docents available in person.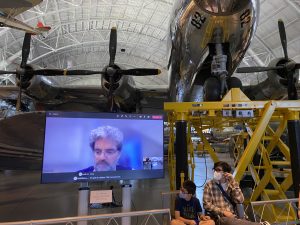 What the museum instead was probably just as good. Next to the SR-71, Enola Gay and Discovery space shuttle, there were large screens with volunteers in their homes, available to chat with in real-time. I realized this when I walked by the screen by the Enola Gay and Scott said hello. I looked at the screen, said hello and asked him if he was there in real-time. Yep, he was speaking to us from his home in Falls Church, VA. Scott was terrific. He answered our questions about the Enola Gay, like how much did Little Boy weigh, and why were the bombs called Little Boy and Fat Man.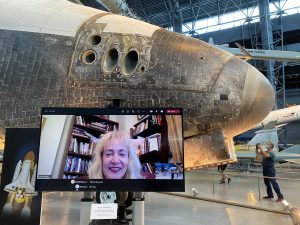 We also spoke with Patricia, who was stationed next to the Discovery space shuttle. And Jim, who was next to the SR-71. Turns out they were all trained to answer questions about pretty much anything in the museum, but our questions were mostly about the ships they were next to.
What a terrific, innovative and surprisingly simple way to bring back docents! All three docents say they are looking forward to being back in person, but I'm wondering if some virtual docents should stick around. Virtual docents could be anywhere in the world; they wouldn't need to drive to Udvar-Hazy; they could have disabilities that prevent them from driving, standing or walking; they could speak different languages.
Virtual docents are just one thing borne of this pandemic that could/should stick around. I know there are lessons learned and many, many innovations and practices should endure post-pandemic. What do YOU think should stick around?