I attended the Virtual ASAE Annual Meeting last week. Unlike other virtual meetings I've attended recently, this one had a hybrid pop-up strategy. 10 cities hosted half-day in person events. I got to attend the DC pop-up on Monday, August 16. How did it work and was it successful? Here's my review.
The Venue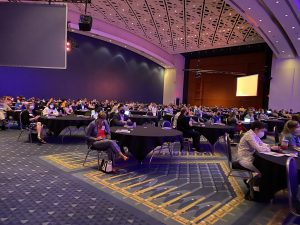 The DC pop-up was held at the DC Convention Center. Everyone was required to wear a mask and a guard at the entrance checked everyone's temperature. I don't know how many people ultimately attended the pop-up, but it looked like several hundred people.
Registration check-in and a long coffee station were in a long hallway outside the main room. All of the sessions were in one really large room; there were no breakout rooms.
The room was large, with big screens, a big stage, and well spaced tables. Each table had only three chairs so that attendees could distance themselves.
The Program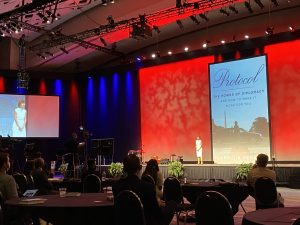 The pop-up was a half day's worth of sessions, with half of them virtual, and half in person. The morning started with a watch party. There were two large screens that displayed what was happening virtually, including the welcome, awards, and excellent keynote session by Baratunde Thurston.
After the first couple of hours of viewing, there was a break, during which we could grab coffee and hang out in the hallway. This break clearly wasn't long enough because the event staff had a tough time corralling everyone back into the big room to attend the in person keynote by Capricia Marshall, former Chief of Protocol for President Obama. I think people were so thrilled to be together that the break could have been 45 minutes and people would have been happier.
After the break, there was a discussion about the future of the industry with ASAE's Reggie Henry and a couple of execs from Fonteva. This session was in person as well.
For lunch, there were numerous stations for picking up lunch, which was plated but served by staff. We then had to eat back in the big room, socially distanced.
Did the Hybrid Program Work?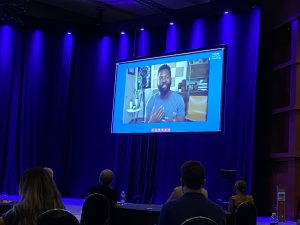 I think the hybrid program worked well. The opening session and the keynote were very, very good, with high production value, so they kept our attention. It was a revelation to see a keynote in person and Ms. Marshall was a great storyteller. I did feel, however, that the big room felt a little empty because of the size of the room and the fact that there were only only three people at each table. It felt like some of the energy from the live session dissipated because the room was so cavernous (and cold!).
Ultimately, it was great fun to see friends who I normally see at an ASAE Annual Meeting, like Loretta, Dave, Brian and Gretchen from DelCor, and Reggie from ASAE.
Was It Worth the Time and Money?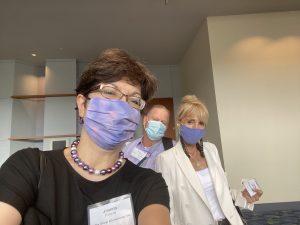 It was definitely more of a deal to get dressed and commute into DC to be on time for a 9:15am general session. I've forgotten how to wear heels, so it was business casual for me.
It was neat to know that the Capricia Marshall presentation was only available in DC.
I didn't connect with many association execs, despite my best efforts. I approached people at every opportunity, including the break and at lunch. I even attended the Happy Hour hosted by Association Analytics after the pop-up ended. Despite all that, I only met two association execs (I met a lot of vendors).
So was the in person pop-up worth the time and money? I'm gonna say a qualified yes.
The Future of Meetings
I know that every meeting planner and leadership team is thinking hard about the future of meetings and events. Can we really go back to all in person? What hybrid strategy will work? Is hybrid affordable? Will virtual or hybrid extend the reach of associations and their education efforts?
The ASAE Annual Meeting was a terrific experiment and I'm glad I attended.