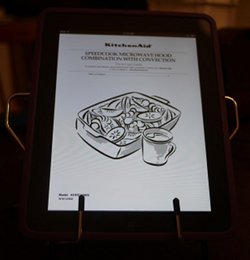 I have a giant stack of user manuals in my house. Manuals for the stove, the microwave, the gas fireplace, the digital camera, the DVR, the game consoles, yada, yada. Yes, I'm the type of person who actually reads user manuals so I can use my devices better and do my own troubleshooting when there's a problem. When I don't have a user manual for a device, I look for it online and bookmark or download the PDF.
Well, I'm going paperless with my user manuals because they're all going into my iPad.
Just imagine this: all (or most) of my manuals in one portable device, searchable, and including a dictionary and ability to write notes. Here's how to do it:
Download the PDF to the computer that you use to synch and back up your iPad.
Drag the PDF to your Books collection in iTunes
The next time you synch your iPad, voila!, the user manual is now on your iPad
This means I can get rid of the ugly stacks in my house and I never have to worry that a manufacturer will remove a user manual for an aging device.  Want to learn more? This article from MakeUseOf shows you how to paginate, bookmark and annotate in iBooks. Love it!