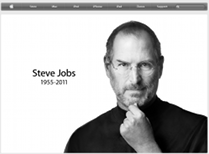 I was driving home from dinner tonight when I heard on the radio that Steve Jobs had died. This blog post will be one of zillions proclaiming how Apple, under Steve Jobs' leadership, changed lives.
My story is simple. My many Apple products made it easy to share the wonders I call my sons and made technology easy at home. I've been an Apple fan for a long time and have slowly accumulated a collection of Apple products.
Apple Should Have a Campaign About How Macs are for Moms
My Mac is my mommy machine. I use iPhoto to store and manage my over 30,000 photos, mostly of my sons and photos from our travels around the world. And when I want to share photos with my family, I select the photos I want and then ask iPhoto to send lower resolution versions, so I don't clog e-mail inboxes with photos that are 4MEG each — no need to resize the images first, which means my mom gets photos nearly every week!
At the end of each year, I made video slideshows of my children's activities using iDVD. The themes make it easy to put together a great looking DVD and I get a terrific keepsake from the year.
My older son learned how to use a computer on our Mac (the baby isn't old enough but he's definitely interested). He immediately understood the intuitive user interface and can play games, watch videos and surf the web.
iChat and now FaceTime make it easy to stay in touch with Grandma, who lives in California. She loves that she can see the boys, although she often frets about how she looks (as if the boys care, they love her!).
Apple Devices Make Home Networking Easy(ier)
I joke with my techie husband that setting up a home wireless network is not for mere mortals, although I have to admit that Apple has made it easy. We have Airport base stations around the house to ensure that have a good wi-fi signal thoughout our 4-story townhome.
We've set up speakers in the different parts of the house and downloaded an app that lets me control the Mac and send music or radio programs to different parts of the house.
We've owned an Apple TV for many years. We use it to watch movies, watch YouTube videos on the big screen, and enjoy our photos. We were worried that Apple would discontinue the Apple TV for lack of sales but it looks like this device will be around for a while. Thank goodness!
I don't think I could live without my iPad at this point. My husband, older son and I were vying for iPad time so much time that we now have 2 of these tablets at home. I use my iPad to check my schedule, check weather, check e-mail, surf the web, find recipes, play games, manage my user manuals, listen to music, watch movies on Netflix, and so on and so forth.
Finally, I love how all my Apple purchases (music, apps, games, movies and shows) are done through my one iTunes account. And I absolutely adore how synching my devices regularly means I can enjoy these purchases on all (or most) of our devices — PC, iPad, iPod Touch and Apple TV.
Thank you, Steve Jobs. Thank you, Apple
If you haven't already noticed, I'm a huge Apple fan and a big consumer of Apple products. I'm passionate about Apple products because the products clearly were developed with end users like me in mind. I love the form factor of the devices, I love the easy user interface, I love the diversity of the apps and functions, and I love how all the products work together.
Thank you, Steve Jobs for making my life as a mom better.