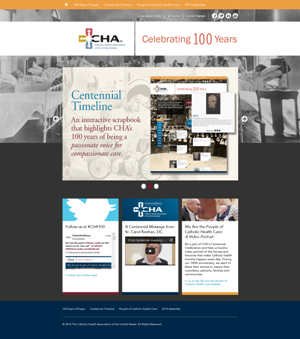 Representing more than 600 hospitals and 1,400 long-term care and other health facilities in all 50 states, the Catholic Health Association of the United States (CHA) represents the largest group of nonprofit health care providers in the nation.
This year, the association is celebrating its 100th anniversary. In honor of this milestone, CHA launched a centennial campaign.
As part of the campaign, CHA wanted to create a special anniversary microsite that showcases its rich history; highlights individuals of the industry and invites members, partners and other visitors to join the celebration.
Matrix Group partnered with CHA to create a special microsite. The website features:
An interactive timeline: The site's main showpiece is the timeline, which uses photography from the association's archive, bringing CHA's rich history to life.  The timeline dates back to the early 1900s, giving visitors a sense of how the association has evolved over the century. As visitors scroll through the timeline, the background images change to illustrate Catholic health care in each decade.
A video portrait series: The videos profile individuals who work in Catholic health care, truly capturing the voice and compassion of the ministry. Members are encouraged to submit video profiles through the website and promote the campaign on social media.
100 days of prayer campaign:  The annual campaign continues through the World Day of the Sick on Feb. 11, 2015. Visitors can submit prayer intentions and sign up to receive weekly prayers. On World Day of the Sick at 1:00 p.m. the participants will participate in one minute of prayer for the sick and those who care for them.
Visit the CHA Centennial Site now.