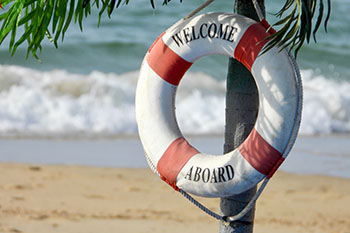 Imagine this. A person (or company) has made the decision to join your organization. What happens afterward? Does she get a giant welcome packet that she won't read? Does the packet contain current or outdated information? Does he get nothing for a few weeks while you process the application and add him to lists? Does he immediately begin to get all the newsletters and promotions for the various products and services you offer?
Last week, I did a webinar with the wonderful Jonathan Cooper from the National Association of Episcopal Schools (NAES), a longtime Matrix Group client. Just over a year ago, NAES replaced its paper welcome packet to a digital onboarding campaign for new staff at member AND non-member Episcopal schools.
NAES used its existing membership database, MatrixMaxx (from Matrix Group, yep, my company), and MailChimp to welcome new staff with carefully crafted messages over a 90-day period that introduce the association, the staff, the Biennial conference, key publications, the staff, consulting services, the daily meditation, and so on. The emails are NOT all about selling. They are meant to welcome new staff and show them how NAES can help them in their jobs.
What kind of results is NAES getting on this onboarding campaign?
The emails are getting amazing opens and clicks. One email gets close to a 90% open rate! Yes, the list is small, but they never previously got this rate of opens on other emails.
NAES members regularly email back after receiving an automated email. The key here is that the emails are really well-written, they are warm, and they sound authentic.
NAES is seeing increased use of their library and increased registration at featured meetings. For example, a webinar designed for new Rectors usually get 7 or 8 attendees. This past year, this webinar had 19 attendees!
Marketing automation is extending the reach of this small-staff association. To me, well-crafted automation actually ends up being more high-touch because members get more frequent, relevant, customized communications. There's simply no way that NAES could send out this level of communications if the messages were manually crafted and sent out.
AssociationsNow did a nice write-up of the webinar. You can read it here.
What happens in the first 30-90 days of a member's journey with your organization matters. Really matters. Because it's during those first few days, weeks, and months that your new member decides to engage with you in a meaningful way. They made the decision to join. Now it's up to you to help them make the decision to stay.